I am happy to announce that the winner of Caption Contest 41 is ... John D!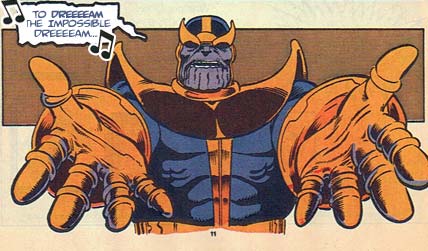 Congratulations to John, who wins a custom black and white illustration of whatever he likes (within reason). I had to truncate the lyrics a bit to fit the balloon, but I loved the idea of Thanos appearing in a musical. Maybe if he did that more often he wouldn't be so grumpy and bent on universal destruction, you know?
The other Honorable Mentions this week were:
Kaldath: Five … Five Dollar Foot Longs!!
jude: "Spirit fingers!!!!!"
epochfox: join the dark side…. we have cookies and these lovely costumes
Bael: "Well aren't you just the cutest little homicidal xenomorph in the whole wide universe! Yes you are! Yes you are! Yes you are!"
Ballin' Boy: You're an angry elf!
Rick: Ribbed… for your pleasure.
I apparently love commercial references, obscure movie quotes, cookies, baby talk, and lewd allusions. Me in a nutshell, pretty much!
Thanks to everyone who entered, and keep an eye out in a bit for Caption Contest 42 and YOUR chance to win a professional illustration!