The winner of Caption Contest 38 is our first three-time winner ... xStacy!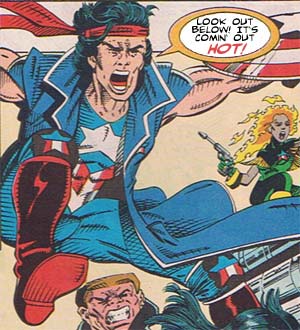 This week was really tough to judge, I have to say. For the first time I generated two versions of the panel to help me decide, the other super-close runner-up was Gregg's: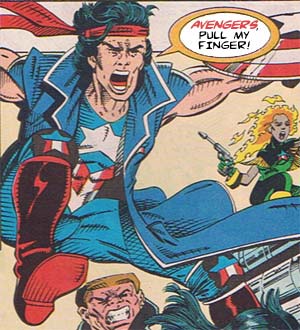 Ultimately I felt like xStacy's made a little more sense in the panel, and its multiple possible meanings also intrigued me more. Plus, the final arbiter in these is always "Do I laugh even after having read it multiple times?" and xStacy's definitely qualified. So, congratulations to her, she'll win another custom black and white illustration from yours truly. She's probably sick of them by now!
The other honorable mentions (all very good) were:
Gregg: Avengers pull my finger!
HalLoweEn JacK: Ok team, 3…2…1… GRIMACE!
Frankie: "We're gonna party like it's 1985."
Fishpants: How do the assless pants look from back there, Steve?
marx: OK! OK! Your telekinetic atomic wedgie counts as a super power!
Cory: Run! Its the one-eyed, one-horned, flying, purple, rip-off eater!
I really loved Fishpants' "How do the assless pants look from back there, Steve?", which makes me laugh every time I read it, especially looking at that horrible grimace on "Steve"s face. But, it ultimately was just too long to fit nicely in the balloon. HalLoweEn JacK's was also very funny given the expressions on the other people in the panel. Frankie's reference to the dated headband, hair, and outfits was great, marx's comment really fit the whole look of what is going on in the scene, and Cory's was the cleverest, I think. Great entries all the way around, thanks everyone!