The winner of Caption Contest 29 is Runt82!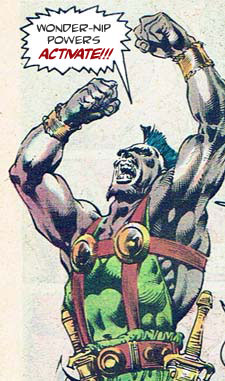 This was a close one, with lots of really good entries. What ultimately pushed Runt82 over the top was trying to imagine what form his breasts would take once the Wonder-Nip Powers were, in fact, activated. The mind boggles. I can honestly say that any one of these Honorable Mentions deserved to win as well, they all are still making me laugh even as I type this:
Ian: Shorts…bunching…up…the agony…!
Jasper: "Safety word! Safety word!!!"
The Doomed Pixel: AHAHAHA! Invisible chainsaw!
Neil Leslie: But I don't want to be a superhero! I want to . . . SING!
timespike: My eyes are UP HERE, pig!
I think Doomed Pixel was the most creative -- I never would have thought of an invisible chainsaw but it totally fits. Jasper's entry is just sick, which of course I love, and I am always up for a good "shorts binding up on me" joke like Ian's. Neil Leslie clearly knows I am a sucker for Monty Python. And timespike's entry is just very, very funny and ironic. Great job, everyone!
Runt82 wins his (or her) own custom black and white illustration of whatever s/he likes. Check back later today for your chance to win!