The winner of Caption Contest 25: Clown Town is ... Jose Inoa!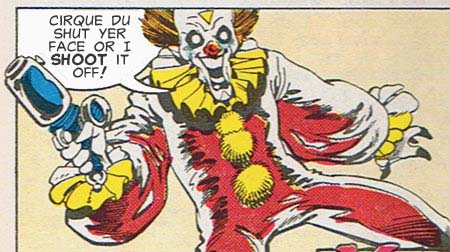 I liked the idea of a Vegas show focused on abusing the audience. Besides the regular audience abuse inherent in a Celine Dion show, of course. Congratulations to Jose, and many thanks to everyone who entered. Other honorable mentions were:
Kaiju: In soviet russia, clown laughs at you!
Ian: You want a balloon animal? I'll make you a frickin' balloon animal!
JonnyDemon: Go ahead punk, call me Ronald again.
Aulianas Telus: Buy a Big Mac. NOW.
DJAdmiral: I'm going to make this a birthday you'll never forget!
Jose wins his own free custom black and white illustration of whatever he likes. Check back in a bit for Caption Contest 26, and your chance to win!