The winner of Caption Contest 23 is ... Danny Beaty!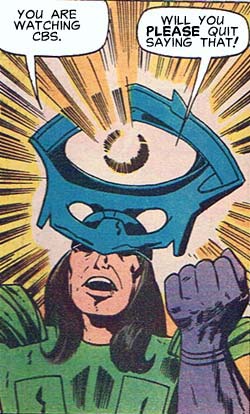 For that great entry Danny wins a custom black and white illustration by yours truly of whatever he likes. Other honorable mentions from this round in my opinion were:
Syzyx:
Balloon 1: With the might of the Lens of Opti-Max I will never be mocked again!
Balloon 2: I'm still your hat and you are still talking to me.

Xstacy:
Balloon1: Dude, I can't believe how many Jager bombs we–
Balloon2: What's this thing on my head?

Dude:
Balloon 1: Talk about your custom frames from Lenscrafters!
Balloon 2: Talk about your custom head from Headcrafters!

Runt82:
1. Balloon 1: Okay, everybody stop what you're doing…
Balloon 2: I've lost my contact lens.

LiveWyre14:
First bubble: They will all scream for…
Second bubble: EYE-SCREAM!!!
Many thanks to everyone who entered, they were fun to read! And I think Marvel or DC ought to seriously think about putting out an EYE-SCREAM action figure. That would rock.