We had a TON of great entries for Caption Contest 124, which challenged you to come up with the best replacement dialog for this random comics panel:
And your Finalists are:
Joshua: "The Estate of Gene Kelley has not authorized this!"
Joshua: "Hey Terry, check out this new talcum-powder dispenser!"
Wil: "I've always wanted to see a blood bath"
Kaito94: "It's a G Major! A G Major! GET IT RIGHT!"
Skybandit: You're screaming in your pain, just screaming…
Skybandit: Your stage name sucks, Lightheartedly!
BenK22: What a glorious feeling, I'm happy again.
Joel: "I'm saying hello to your little friend."
dblade: "It's a shower, Terry! A shower! You are not singing in the freakin rain!"
Jack: "My Pitch-Perfection-Pistol-9000 is useless! And Terry's recital is tomorrow!"
thor1066: This is the LAST time I'm gonna tell you the curtain goes INSIDE the tub!
Sutter_Kaine: If it helps, think of the gun as a metaphor.
Wulf: "What a glorious feeling to murder again!"
Bael: Now let's try that as a castrato, Terry!
Joseph Zumchak: "Now thats what I call a silencer!"
Those are all really funny, and such variety! I wouldn't have thought of the gun as dispensing talcum powder instead of a puff of smoke, for instance. And Jack's Pitch-Perfection-Pistol was very clever. I also liked that so many were able to work with the lyrics of the song, which is from one of my all-time favorite musicals.
Ultimately, though, as the winner I've decided to go with thor1066: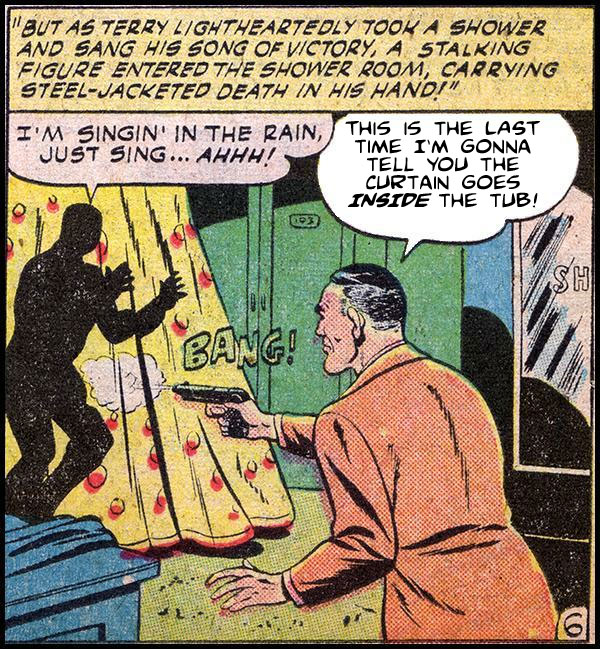 Because I've lived with roommates before, and I felt like stalking them with steel-jacketed death in my hand on many occasions.
Congratulations to thor1066 and to all of our Finalists!