If you missed the Eighties, and wondered what fashion was like back then, I think the super-hero Maser would agree it all comes down to one word: Headbands.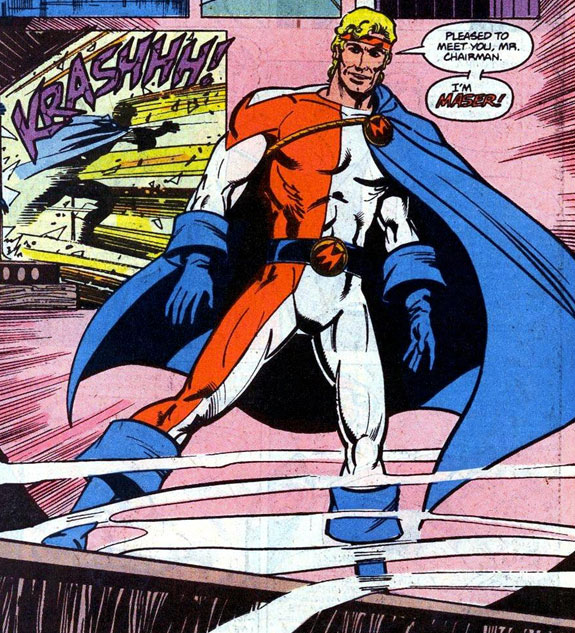 If you are a man and you find yourself running around in public wearing a headband, one of the following had better be true:
You are playing tennis Bjorn Borg or Jimmy Connors;
You are teaching an aerobics class;
You are a kung-fu master, hopefully appearing in your own comic book.
That's it, folks. And though my Maser mastery doesn't exactly top the charts, I'm pretty sure he doesn't qualify.
The rest of the outfit is boilerplate vintage super-hero, from the Captain America gloves and boots to the vaguely Alpha-Flight style bifurcated color leotards popular in the era. Aside from the headband, though, the two bits that really bug me are the "lazy M" logo and the underarm cape rope. As to the first, having the two logos pointing in different directions makes me think he's got one of those spinning hubcap things going on, where the letters twirl crazily as he dashes about.
Which is actually kind of awesome, if by awesome you mean horrible. What's next, curb-feelers?! No offense, Ambush Bug:
As for the underarm cape thong, can you say "chafing"? Seriously, I hope he has some serious shares in an aloe vera factory, because dude will need it. Especially since, let's be honest, he probably shaves his body all over, so he can stay smooth and shiny when he finally, mercifully, sheds that outfit. I bet he perms that hair, too.
On the other hand, down the road maybe he kept the costume but decided the "M" stood for "Metrosexual" instead, and he landed a bunch of lucrative endorsements. Which he'll need to treat the crippling case of "Burned Pit Syndrome" he's in for.