I've just published the Heads-Aliens set of items for the HeroMachine 3 alpha. It includes many of the items you suggested in that last thread, so thank you! Solander in particular put up some electron microscope close-ups of real-life critters that worked out great, they're towards the end.
The set is a mix of completely finished heads (like in Heads-Animals) and pieces that you can assemble with the "multiples" setting enabled for your own custom creation. I've also imported some alien-like items from Ears, Noses, and Mouths, along with some of the non-proprietary Lordi items you've not had til now. All in all this release has 58 items in it, out of which maybe 15 or so are repeats. I thought it was worth it to have similar items all in together.
Here's a quick sneak preview of twelve of the new items at the top, and at the bottom are similar items from HeroMachine 2 for comparison's sake: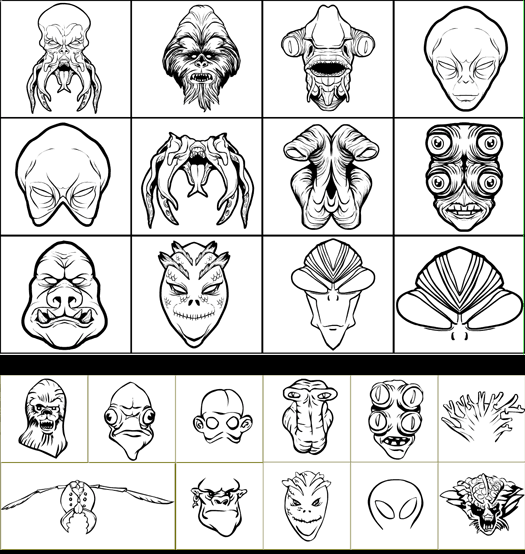 Finally, in the course of basic testing I ended up putting together an entire character, which I hardly ever do any more. But since it does have one of the new Alien Head pieces (the lion-like snout), and since people for some reason (or hundreds of millions of reasons) want to build cat-like aliens, I decided to include it. Apologies to all the people who do waaaaay better putting these together than I do!
Let me know anything you'd like to see but don't, bugs, or things you like in the comments.
And no, I haven't 100% decided what to do next, so by all means feel free to lobby.