I wanted to make an open thread for people to post links to their HeroMachine 3 creations. Put yours up on the UGO Forums' "Hero Archives" (or Flickr, Facebook, whatever) and put the link in the comments. I also wanted to put up a few from Imp, which I hope he doesn't mind. But they were cool and each shows off a feature of HM3 that I suspect a lot of folks haven't thought of.
(WARNING: Large images below, folks with slower internet connections take heed!)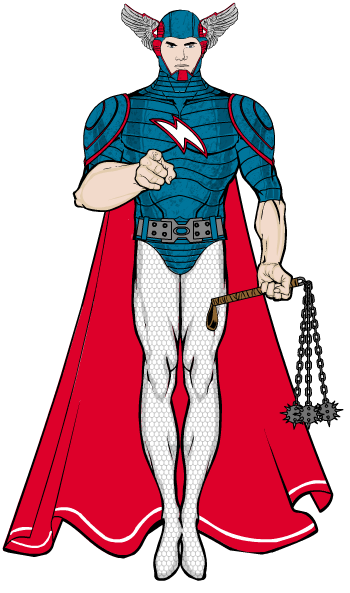 This is "Mercury", and I wanted to point out the nice use of the wings from the "foot" slot being used as decoration for the helmet. The coloring on the shoulder pads and chest piece, along with the same "dirty" pattern being applied to them, helps blend those together nicely. And finally, the alternate right arm and pointing hand help make a figure that easily stands out from what was possible in the previous HeroMachine versions.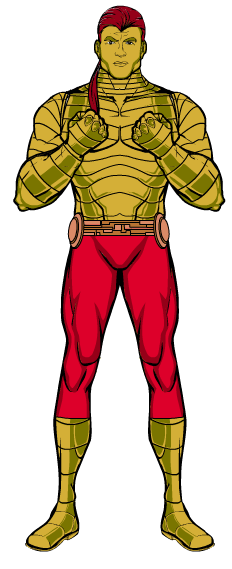 The Bronze Avenger shows the alternate hand/arm positions even better. This is a cool looking pose, and you have access to the full range of gloves and tops to outfit it if you like. It takes more effort to get this than just picking the complete base figure, but you can get character images that just couldn't have been done previously. And best of all, I didn't have to draw 56 different Tops in this pose!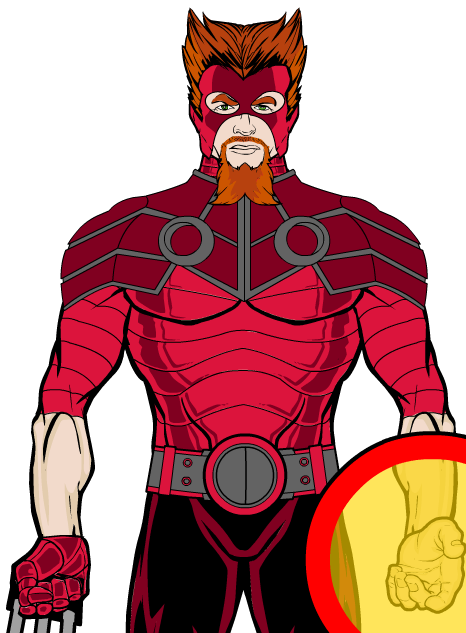 First, "Red Wolf II" is just a nicely-conceived character. The colors coordinate nicely, and everything works well together. But I wanted specifically to point out the belt. This is a very simple technique, but by choosing the studded military belt and combining that with a scaled-up round buckle, he's come up with a completely new, and very cool, item.
On a separate note, I can see that I need to make gloved versions of the character's left hand in that pose, because it looks awesome.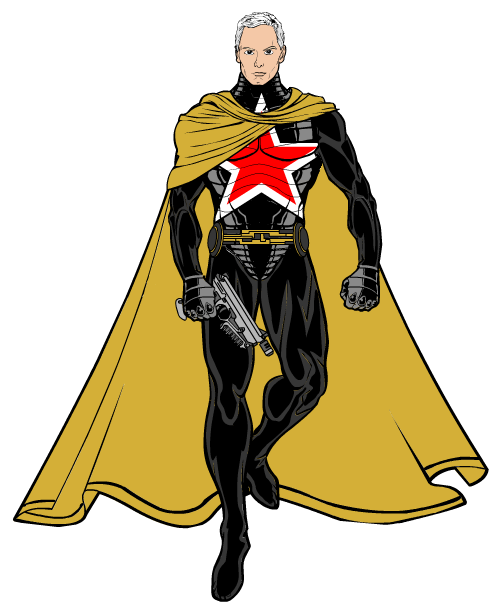 Finally, "Red Star" shows how some very subtle changes can make for a very strong figure. By rotating the character's right arm just slightly, so the hand and gun are overlapping the right thigh, and then (if I'm not mistaken) rotating the left arm slightly outward, you get an effect of the guy striding forward. Plus the scaled-up and masked big red star look great.
So kudos to Imp, who I hope doesn't mind having his characters displayed here.
I'd love to see what you've come up with that showcases what HeroMachine 3 can do so far. The UGO HeroMachine Forums are a great place to share your creations as well, and you might even win Hero of the Week at some point!