If the concept of a "Shane and Sia The Barbi Twins 16-Month Swimsuit Comic Art Calendar" doesn't strike you as a terrible idea, then perhaps the installment for "March, 1996" will change your mind: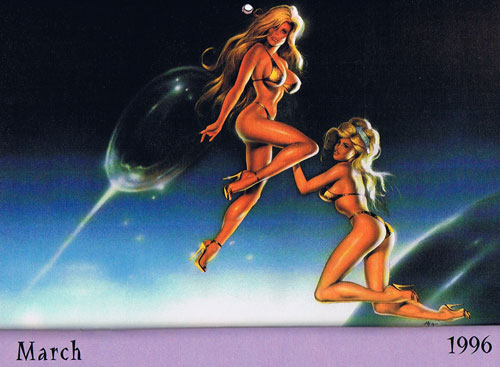 I feel this qualifies as a "Bad super costume" because a) it's a "comic art" calendar, b) the artist, Peter Hsu, worked in the comics industry (granted, on "The Barbi Twins Adventures", but still), and c) they are being attacked by a Giant Intergalactic Space Sperm, which could only happen in either a comic book or a bad John Holmes movie.
Also, one of the twins (I can't tell if it's Shane or Sia, as if that really matters) is making a "Spider-Man Webslinging" hand, which clearly is a comic book reference. I don't specifically recall Spidey facing off against a Giant Intergalactic Space Sperm, but he did fight Galactus once or twice. I leave the rest to your imagination.
Having established that this image is a bona fide target for comic book investigation, I have to ask the following questions:
If you feel confident your day will involve flying out of the atmosphere to battle Giant Intergalactic Space Sperm, why would you wear a bikini?
Nine inch spike heels: fashion accessory of potential weapon?
What the heck is that in the lower twin's hair? A mind-amplifying tiara (right, like there's a mind to amplify!)? Insanely oversized bunchie? Levering device to dig out the atomic wedgie that bikini bottom is giving her?
What in the name of all that's holy is that bottom twin doing with her left hand there, and how will pulling something out from between her sister's leg help defend Earth against marauding Giant Intergalactic Space Sperm?
OK, I lied, I don't really want to know the answer to that last question.