For the first time in HeroMachine contest history, we have a second-time winner. Congratulations to xStacy for his winning entry for Caption Contest 18!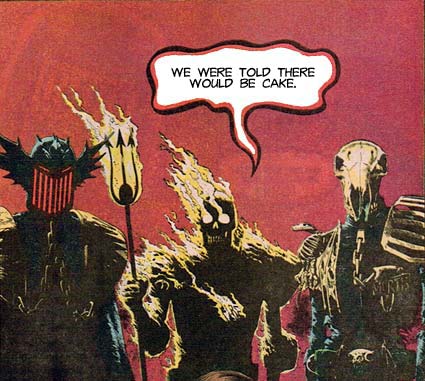 Other honorable mentions included:
Bajonk: American Gothic, millenium edition. (again, I'm a sucker for a good fine art reference)
Bajonk: Someone call a babysitting service?
Doomed Pixel: Hi, my name is Phil, and I divided by zero.
Wild Ferret King: Worst. Vacation. EVER.
Ian: "Pestilence is home sick, so we're just the Three Horsemen of the Apocalypse tonight."
Many thanks to everyone who submitted one of the record-breaking number of entries this week, your good humor and creativity are much appreciated. xStacy has won a second black and white custom illustration of whatever he likes; check back in a bit for your own chance to win the same with Caption Contest 19!