Hey everyone, just a bunch of random stuff this time. Some con loot, some gaming news, a quick Halloween, and an announcement of my insanity! I kid, but not by much. Anyways, let's get to it!
Bran-Con Loot!
I ended up not putting this in the main Bran-Con post because it was already getting pretty big and picture-heavy. So, without further adieu, and with all vendors tagged in the captions: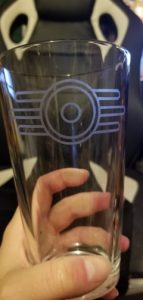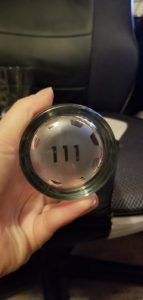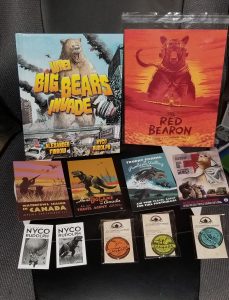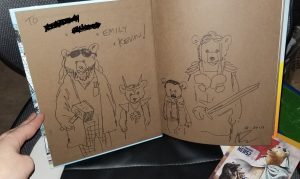 Also, we got our faces in the local paper with a pic of our Saturday costumes! So that's pretty cool. It's a HUGE picture, too. I thought it'd just be a little one.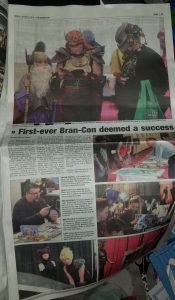 Blizzcon Happened
So, even though Activision-Blizzard have been persona non grata in the gaming circles lately due to fallout from the banning and punishment of a Hearthstone player for voicing a pro-Hong Kong stance during a match, that wasn't going to stop the annual Blizzcon from going ahead. And boy, were they trying to get back in the good books (not saying this stuff wasn't already in development, but it's quite convenient). So, there was the requisite WoW expansion announcement (this will be the eighth expansion!), also Overwatch 2, and some other stuff.
But that's not what they opened with. They opened with THIS (warning: M-rated, and also nine minutes long)
So, on one hand, I'm pretty cheesed that they've put this out now, in order to cool some of the backlash. Diablo's a game I play with the kids. We really enjoy it and D3 has been a good way of helping (especially the Elder Spawn, as he's older) them get a handle on the minutia of managing inventory and gear loadouts in an RPG. It's also been a good introduction for them to the world of Sanctuary itself, and the characters that live there. Elder Spawn in the last year has done two Diablo-themed cosplays. It's kind of a big deal to us, and I hate that it's being trotted out this way. So I'm torn.
Because holy hot sauce that trailer was amazing! The three of us watched all nine minutes, rapt. The kids' biggest concern was that the injured guy was Tyrael. They were very happy when they saw he was not. Upon seeing the gameplay footage video and seeing that the Druid was an announced character class, the Elder Spawn 'shat his pants' (thankfully not literally). The game is not coming out anytime soon (even by Blizzard standards), so hopefully by then I'll have figured out this internal conflict.
Halloween Was Cold AF At Our House
It really was. I last-minuted a Winter Soldier with stuff I already had and a wig I bought for Loki just to have a costume where I was fully covered. Younger Spawn wore Elder Spawn's old Ghostbusters uniform, although I made her a Holtzmann nametag, and found her my goggles to make it the Ghostbuster she wanted to be. She would have frozen as She-Ra.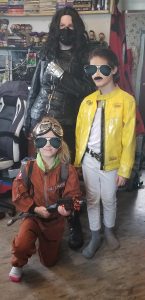 I Have Lost My Damn Mind
November was already going to be kind of busy for me. I have some extra shifts at work for a bit more 'get-comfortable' training in the meat department as I will be running the show for just over a week when the meat manager has time off mid-month. So what did I decide to do?
I signed up for NaNoWriMo. Like, officially. Here's my profile and everything. With a goal for 50k words for the month.
So yeah. We'll see if I make it through November in one piece.