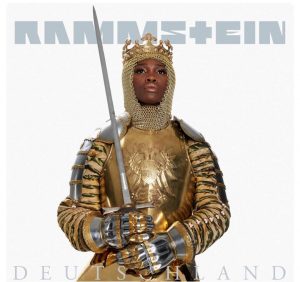 Hey everyone! Today we're talking music news. And the biggest story is a brand new track and accompanying video from none other than Rammstein!
Now, I knew we were supposed to see some new material from the band this year, and some cryptic pics had been showing up on the socials but nothing else. Then a post shows up on my Instagram feed: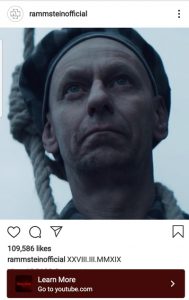 Head to YouTube, it tells me to come back on the date (March 28) for Deutschland.
Fast forward to said day. It's after work, its been a long (and unnecessarily fraught) day and I finally to sit down and listen to and watch the first new Rammstein material in a decade.
LINK HERE TO THE VIDEO. Normally I'd post it, but just to be on the safe side.
It was worth it. Guys, Rammstein are BACK!  And I LOVE it!
I don't even know where to start. Musically, Rammstein have never suffered from an overabundance of lyrics per song. Its better to think of it more like a poem, where less can be more. In this case, looking at both the history and the future of their homeland. It's also filled with little nods and callbacks to previous videos and songs peppered throughout, from the very first word to the angelic image of Germania rising on Till's Engel wings as the band crawl like dogs below Mein Teil-style.
Of course, once you couple the words with the visuals, then things really shine. As always, the video is stunning, weird, disturbing, and fantastic. The color palette is appropriately red, black, and gold, though some parts bring in a futuristic white. Germania is played by actress Ruby Commey, and is phenomenal, portraying the personification of her (and the band's) home country through time, from Roman invasion to now and towards the future. And the costumes are stunning. My personal favorite is the gold armor with the crown over the mail coif. So badass.
Of course, certain imagery in the video has caused controversy. To that, I can only say this:
Other Business:
-Sabaton currently has a countdown on for April 2nd. As they have announced a new album for this year, I'm quite excited to see what Tuesday will bring.
-We are 35 days out from the con. I do not feel prepared. We did get a few things taken care of tonight, but there's at least one kind of big thing that's posing a problem. But progress is being made.
So there it is! Hopefully we'll be back again early next week talking about something similar in regards to Sabaton and a more detailed cosplay-progress post. See you then!