Since I guess this isn't really 'The Road to Comic-Con' anymore, I guess this will do as a title. But, just because the con is off, doesn't mean we aren't going to finish what we started! So let's have a look at our progress (including the first fully finished piece!). Image heavy post ahead.
Bracers
A little bit of work done here. The bracers themselves and the handplates are now attached to one another, and an elastic was added to the underside of the handplate to keep it on. I have straps for the bracers themselves but haven't put them on yet.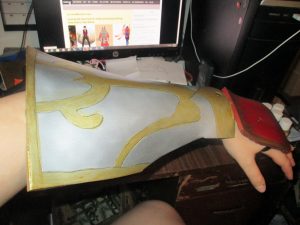 Shoulders
Finally got around to gluing the small spikes to the shoulders. The third shoulder piece still needs a big spike, but my first attempt at that fell apart. Better luck next time.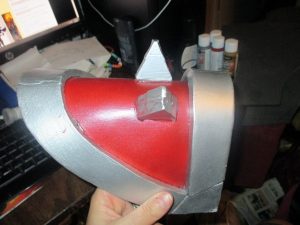 Treasure Goblin Loot
This is the part I didn't do. While I was working on other stuff, the elder spawn painted the shield, helmet, and bracers that will be part of his treasure goblin loot. All I have to say is, based on the job he did,  I'm going to have to step up my game. These are primed in black and painted with regular acrylics.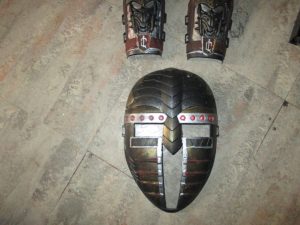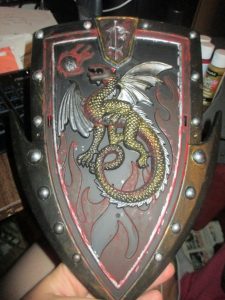 Wig #2
I have no idea when I'll get to wear this costume now, as it was supposed to be for Day 2 of the con. But, my wig is still in for it. I decided to do a real quick 'eyebrows' test with it, since mine are the wrong color and shape for the character. I see now the wig is a little crooked in the pictures, but it was late and I just wanted to see how it looked. The eyebrows do make a difference, I have to say, even if they were just a quick test.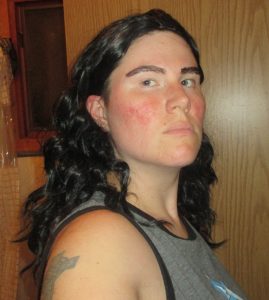 Axe
I'm almost sad to say this is my final update on the axe. Yes, it is finally finished! Here are the final steps:
- Primer- the skull and spikes were all primed with Rustoleum Smoky Beige to get a bone-like colored base.
-Grey Wash- I made up a wash from black, a light grey, and a hint of dark brown (I believe the ratio was 1:5:1, respectively). This I gave two coats with a fairly stiff brush to get a nice texture, especially on the skull.
-Shoe polish- the next day, when everything was nice and dry, all the grey-washed areas got a coat of black shoe polish to weather them to the nice, dark color of the in-game item. To do this, cover the item with shoe polish, either by brush or with the sponge applicator. Let sit for a couple of minutes and then use a paper towel to dab off the excess. Repeat if necessary until desired look is achieved. I did one full coat and then a few touch-ups.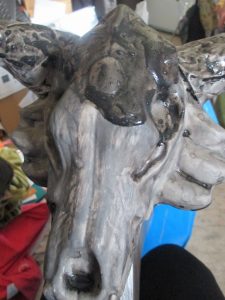 -Blade- the blade of the axe is quite shiny on the in-game axe, so I didn't shoe polish it. It is, however, blood-covered, especially along the blade, up the front, and on the skull. Start with a burnt sienna color and apply as desired.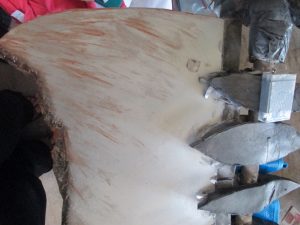 Add red with it. Not directly over it, per se, but in around it so both colors can be seen.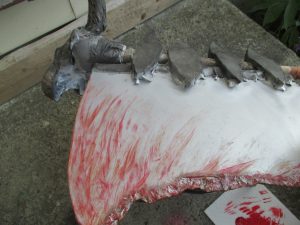 I also dripped some red food coloring on it too, for more 'fresh-looking' blood drips, but that's totally optional. Let it all dry and seal with a clear matte spray.
-Handle- I had to repair the this as where I'd bent the broom handle had actually broken. I gave it a splint made from dowel, duct taped the crap out of it, and wrapped new cloth over top. The whole handle was shoe polished to weather the cloth, as well.
-Butt end- I realized I still had a broom end to cover. I rigged up something with a piece of foam, a piece of paper towel roll, and a plastic shot glass. They were painted black to finish things off.  Once the battery pack for the lights was secured back under the skull, then that was all!
And there it is, it's done!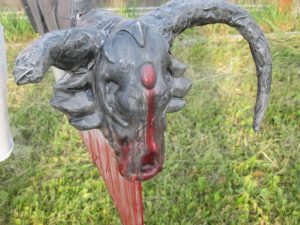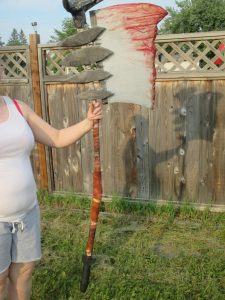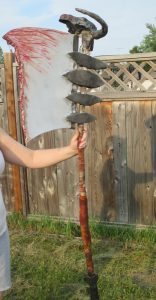 Well, that's how things are going. This weekend is very exciting. We're going to be seeing The Meg (for our anniversary, no less!). I hope it's as ridiculous as it looks. I'll have a review for that afterwards, don't worry.