Hey, everyone! You know how in my last post I said that we'd gone out of town last week for a couple of days and that I was going to write about it? Well, here it is (finally!), my first concert review! And not just any concert, this was our first time seeing family-favorite Sabaton! I've been to a number of concerts in my time, from small gigs in bars or at university to big ones outside or at large venues but I've never written a proper review for one, so bear with me as I try this out. So let's see how it goes. Oh, and all the pictures I'm posting were taken by us that day.
This show had a lot of hype leading up to it. We bought our tickets months ago when the tour announcement first popped up on my Facebook page and as it got closer the kids asked more and more often how long until the concert. Our three-year-old also started 'practicing her horns' so that she'd have them just right in time to see her favorite band. This kind of thing is a bit of an undertaking for us too; since we live in a little town in the middle of nowhere, it's a four hour road-trip to the closest city big enough for these kind of shows. It becomes a whole experience rather than 'just' a concert since we generally stay overnight and check out amenities that we can't get closer to home (like my second-ever trip to Ikea the next day). We also took a stop in a town on the way about an hour from home. This town has a cenotaph and a tank on display commemorating those who've served, so we stopped for pictures. Because when you're going to go see Sabaton and you have an opportunity to take a picture with a tank on the way, you do that.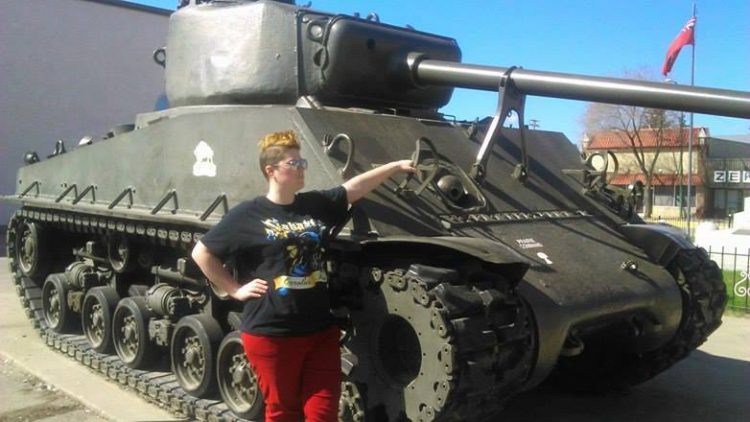 But let's fast-forward a little. We're in Winnipeg, heading to the venue which was actually a place we hadn't been before. Usually when we see concerts they're at the MTS Center, but this time we had our first show at The Park Theater. It's a smaller venue, and was surprisingly close to our hotel, which was nice. It was also pretty cool to see this when we got there.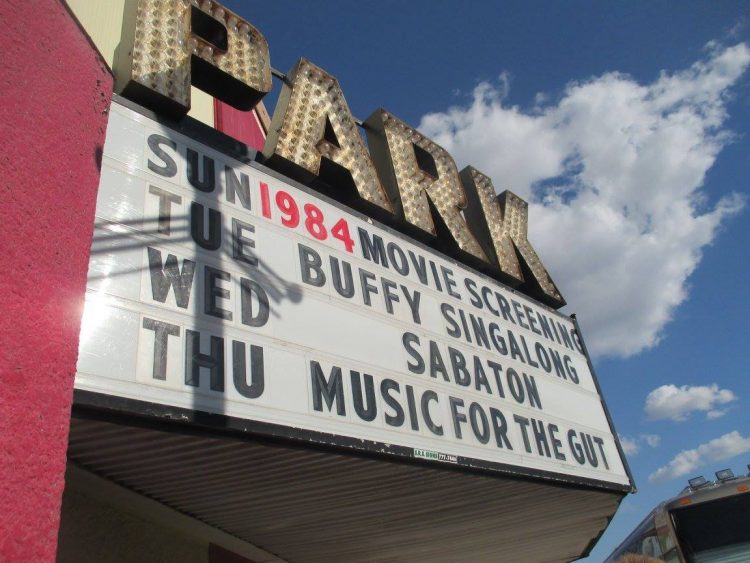 We also got there pretty early, so we waited for a while before getting in. But once we got in, we were ready to go. We got all our swag (shirts for us, a poster and flag for the kids, a signed CD, etc.) and headed inside. As you can see, it's a pretty cozy place. We got our spot, nice and close to the stage and a little off to the side, as it seemed better idea with an open floor and two kids with us. It was a sold-out show too, so it got pretty crowded once everyone was in.
Sabaton had two bands opening for them, both of which we got acquainted with beforehand. It was a lesson learned from the last time we took the kids to a concert and they didn't know the opener and so were restless waiting for Judas Priest to start. The first on was Leaves' Eyes. And let me tell you, they are much better live than the studio versions we looked up on YouTube. Even more cool, co-vocalist Alexander Krull noticed our daughter up on my shoulders rocking her little heart out and waved at us! He also snuck offstage so he could pop up in Viking armor for the last song.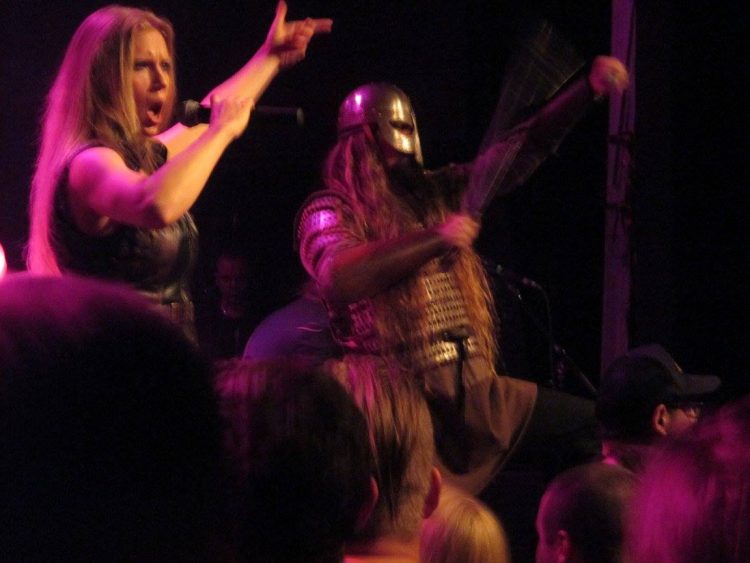 It was a great way to start things up. Unfortunately, we also began to notice one drawback to this venue. Great place, not so great air circulation. But more on that later.
Second up was Battle Beast, another great band I'm not sure how I missed for so long. It was also really cool to have two female-fronted bands with really different sounds play back-to-back. I mean, look at it like this: Leaves' Eyes had a Viking, Battle Beast had a keytar player.
I really dig their sound, even (and maybe especially) songs that really hit that synthy-80's feel. And who isn't going to love a song called 'Bastard Son of Odin'? This was also their first time in Winnipeg, and their first time touring in North America, and we hope they come back. They're more up-tempo, and it was a nice transition from the operatic Leaves' Eyes, to Battle Beast, and then to Sabaton. It was also starting to get really hot and so hydrating was also a priority, if only just to keep going.
Then, it was time for Sabaton. The speakers played 'In the Army Now' and the crowd sang along. Then 'The March to War' played and we waited. Anyone who's seen a Sabaton show knows what happens next: the words 'We are Sabaton and we play heavy metal!' and then ripping right into 'Ghost Division'. It was hot as hell, even Joakim Broden commending the crowd for its energy despite the heat, and the fact it was a Wednesday night. It might not have been a big enough venue for the tank set on the stage, and there was no pyro or anything like that, but we didn't need it. Sabaton have crazy energy and great banter between themselves and with the crowd and so we didn't miss the fancy stuff. You can see how much they love what they're doing and how much fun they're having, and you really feel that energy in the crowd. The crowd even got a choice of song at one point, which was really neat (we chose 'Gott Mit Uns' in Swedish, the night before had gone with the other option, 'Poltava').
Everything sounded great, too. I'm no expert, but I've been in some small places where the sound quality was awful. Not the case here, it all sounded really good. The set list was great too, a little bit of everything with quite a few songs from the newest album. There were certain songs I expected to hear, as you often do, but there were a couple I wasn't expecting and I always really like that at a concert.
So, in summary, what can I say? We'd all very much like to see any of these bands again, and hopefully we can do so somewhere a little less stuffy. If you get a chance to see any of these three bands, go for it. Seriously, it's an awesome time.
So that's my little write-up on our Winnipeg trip. We saw Guardians of the Galaxy Vol. 2 today, so expect a review for that soon. We would have seen it last weekend when it opened, but after a trip to Winnipeg, we decided we didn't want to be in the car anymore. So until next time!