On this edition of Anime Talk The 12 Days of Anime, I am going to make some recommendations on Gift ideas for your family and friends who are Fans of the media. I will break it down into several different categories with about 5 recommendations in each category.
So lets begin .........
CHILDREN'S ANIME: Some suggestion for your younger per-teen anime fans
1) Little Snow Fairy Sugar
Synopsis
Season Fairies create and control the weather using special musical instruments. They make the wind blow, the snow fall, the sun shine; if it's something weather related, they are the ones who make it happen. Sugar, an apprentice Snow Fairy, and her friends Salt and Pepper, all want to become full-fledged Season Fairies, and the only way to achieve this is to search for and find the "Twinkles" that will make their magical flowers bloom. The only problem is that none of them have any idea what a Twinkle is. They enlist the somewhat unwilling help of Saga, a human girl who can see Season Fairies. Much to her annoyance, Saga's perfectly planned and ordered life has just become a little too lively for her taste. Together, they search for the mysterious Twinkles while trying to perfect their magic.
Source: ANIMENEWSNETWORK.COM
I personally have not seen this one myself but I have friends who have seen it and and they tell me it is a good anime, and it was also recommend by our very own keric.
2) Pokemon
synopsis
A young boy named Ash Ketchum embarks on a journey to become a "Pokemon Master" with his first Pokemon, Pikachu. Joining him on his travels are Brock, a girl-obsessed Rock Pokemon Trainer, and Misty, a tomboyish Water Pokemon Trainer who may have a crush on him. Ash and Co. end up traveling through various regions, including Kanto, the Orange Islands, and Johto, and then enter the Pokemon League competitions there. Along the way, they run into many confrontations with Jessie, James, and Meowth, a trio of Pokemon thieves who are apart of an evil organization called "Team Rocket". But everytime Team Rocket try to do their evil deeds, they fail thanks to Ash and his Pokemon.

Source: ANIMENEWSNETWORK.COM
Let me start off by saying something that is likely to have JR come after me with torch and pitchfork in hand. I absolutely HATE the Pokemon Anime! Now that I got that out of the way, you most be asking yourself if you hate this anime so much why are you recommending it ? Simple enough, this section is for recommending anime for children and my 10 year old nephew LOVES this show and thus my recommendation.
3) Cardcaptor Sakura
Synopsis
Sakura Kinomoto was an ordinary 4th grader until the day she opened a strange book and let dozens of powerful magic cards loose on the world. Keroberos, the Guardian of the Clow Cards, informs Sakura that it is now her responsibility to find and capture the freed cards. However, much to the reluctant Sakura's dismay, things aren't going to be easy for her; simply saying magic words and waving her wand around isn't good enough. Each card is a living, thinking, extremely powerful being. She'll have to learn to cope with her new responsibilities, as well as ordinary troubles involving love, school, family, and friends. With the support of her friend Tomoyo and a young boy with powers of his own, she must learn how to use her newly awakened magical abilities to collect each card and prevent the disaster that will befall the world if she doesn't.

Source: ANIMENEWSNETWORK.COM
I watched a few episodes of this anime and though I found it a little to kiddie for my tastes I never the less thought it was a fairly good show and should be perfect for your younger anime fan.
4) Digimon Adventures
Synopsis
Tai, Matt, Sora, Joe, Mimi, Izzy, and T.K went to a summer camp like any other. But it was short lived when beams of light shot down from the sky and presented, to each of them, a peculiar looking electronic device before sucking them up into a portal in the sky. The kids ended up on File Island in a completely different world. As they explored the unknown land, they were each befriended by a small, playful creature called a digimon. At first, the digimon didn't seem to be much help in the way of getting the kids back home, but when they were attacked by a large, vicious digimon, the kids used their electronic devices(called digi-vices) to make the digimon "digivolve" into more powerful creatures, and they fought off the attacking digimon. As the kids tried in vain to find a way back to their world, their adventures led to the development of stronger bonds of friendship with their digimon partner, and the "digivolution" of the digimon in order to protect their human partners. As they explored the "digital world", they learned from the noble warrior digimon, Leomon, as well as the dimensional being known as Geni, that they were the chosen "digi-destined" who were summoned to the digital world in order to save it from a great evil. Only by helping their digimon partners get stronger and by working together, would they be able to fulfill their destinies and return home. As they continued on, they encountered many evil and dangerous digimon: Devimon, who used Black Gears to control the minds of other digimon, the infamous singer digimon Etemon, and the vile Myotismon, who was bent on taking over not just the digital world, but the real world as well. The digi-destined had to return to Japan in order to defeat Myotismon, and it's discovered that Tai's little sister, Kari, is a digi-destined as well, and that Gatomon, who was unwillingly working for Myotismon, was her partner digimon! After defeating Myotismon, the digi-destined faced the powerful Dark Masters: MetalSeadramon, Puppetmon, Machinedramon, and Piedmon. And finally, after all the evil digimon had been vanquished, the kids and their digimon faced off against the most powerful of all, Apoclymon! And after all was well in the digital world, the digi-destined had go home and say goodbye to their digimon. But they promised to come back to the digital world one day to visit their digi-friends again!

Source: ANIMEYUME.COM
Unlike Pokemon I LOVED Digimon when it was airing on tv, especially the first two seasons. This is a great series for any young anime fan and I highly recommend it !
5) My Neighbor Totoro
Synopsis
Two young girls, Mei and Satsuki, move into a new home that is close to the hospital that their mother is in. In their yard is an extremely large tree which is home to three Totoros, gods of the forest. Soon after, news from the hospital comes up that their mother can't come home as promised, so Mei (the younger daughter) runs away from home to visit her mom. Satsuki then needs to turn to Totoro for help in finding her sister.

Source: ANIMENEWSNETWORK.COM
This is another anime that I have not watched myself yet I heard really good things about. Many of the Anime reviews I watch, as well as others  seem to have very fond memories of the 1988 anime and so for that reason it earns it's place on this list.
BATTLE SHOUNEN: This section has a little crossover with the previous one as the target demographic is aimed at the age range of 8-18, however it is specifically targeted at boys and young men. I have two things to say before we start. The Battle Shounen is not really my favorite genre so I haven't watched a great deal of them so in this case my list is going to be rather limited. Two there are to very notable popular Shounen that I will not be including on this list, Naruto and One Piece because I absolutely despise both of these shows and can't bring myself to recommend them, but if they are your cup of tea more power to you!
1) Rurouni Kenshin
Synopsis
Himura Kenshin is a vagabond with a dark past and sunny disposition. Not a ronin but a rurouni, he was never a samurai, but an assassin of utmost skill in the Meiji restoration, who in the turning point of the war simply walked away. His travels lead him to Tokyo in the 11th year of the Meiji era, where he befriends a female Kendo master, a former thief, a brawler and a doctor all with their own secrets. Together they fight off the enemies surfacing from the dark past that Kenshin cannot escape.

Source: ANIMENEWSNETWORK.COM
I first watched this anime on cartoon network during the defunct Toonomi block of Anime and found it highly enjoyable. I have recently began re-watching it on Hulu and still find it to be a great show. I most say however that I personally am not fond of the English dubbed version and much prefer the subtitled version. I would also suggest the Anime Movie Samurai X: Trust and Betrayal, which is a Prequel to the Rurouni Kenshin anime, and is the tale of how Kenshin became Battousai The Man Slayer as well as the events that caused him to give up killing and become a wanderer. It is still classified as Shounen however in my opinion is is more suitable for an older audience.
2) Ben-To
Synopsis
You Sato is a new high school student living in the dorms. While seeking cheap eats at the local market he finds himself beat up and semi-conscious with fleeting glimpses of a girl during the moments of his collapse. As his memories recover the next day, he discovers that trying to purchase half priced lunchboxes can be hazardous to his health as free-for-all fights with local students for the discounted food is the nightly routine. The girl from the night before, Sen Yarizui, is an upper classmate known as the Frozen Witch and is one of the local Wolves who dominates the area. She educates him on the rules of the game where Wolves eat well while Dogs settle for cup ramen. With fellow first year student Hana Oshiroi, a fetishistic germaphobe, You Sato sets out to discover if he too has what it takes to be a Wolf and taste the sweet victory of half priced boxed banquets or wallow in the bitter defeat of reconstituted noodles and salty broth in a styrofoam bowl.

Source: ANIMENEWSNETWORK.COM
This was a great anime with an unique story, fighting over discount bento boxes and turning it into a competition complete with rules and a point system ? It like turning Black Friday Holiday sales into an contest!
3) Bleach
Synopsis
Ichigo Kurosaki is a 15-year-old-boy who has an ability to see ghosts/spirits. Because of his ability, he is able to meet a female death god (AKA Shinigami) named Rukia Kuchiki. To save his family and friends from unwanted soul-eating spirits (Hollows), Rukia transfers her Shinigami powers to Ichigo. As Rukia takes on a human shell, together they solve mysteries involving spirits and Hollows until from the spirit world come two other Shinigami, who explain that it is illegal to transfer Shinigami powers to humans and that Rukia exceeded the time limit to stay in the human world. After they sentence her death for breaking the law, Ichigo snaps and swears to everyone he will retrieve Rukia by breaking into the spirit world.

Source: ANIMENEWSNETWORK.COM
I admit that I have not watched this entire series, mostly because it is sooooooo dang long! One day I will finish watching it, I promise I will!! I can however say that what I have seen I have enjoyed even though some of the plot points get dragged out a bit too long at times. Never the less I really enjoyed this anime, its basic premise, its characters, that fights, all wonderful. It also doesn't hurt that two of the opening titles use music from my Favorite band SCANDAL.
4) Kaze no Stigma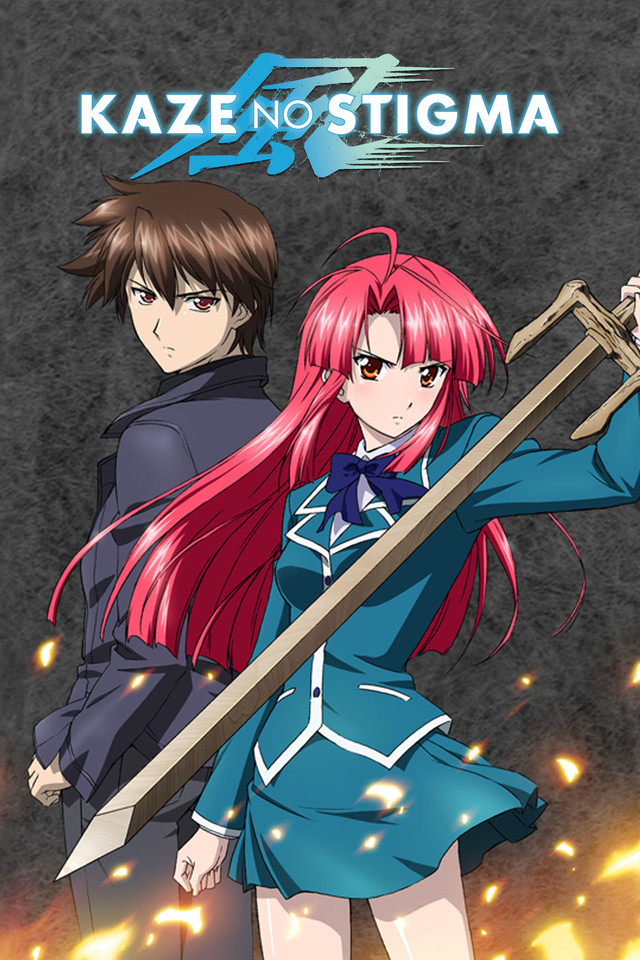 Synopsis
Ayano is the heir to the house of Kannagi, a house with ties to the spirit of fire, whose members are all fire users. All except for her cousin, Kazuma. After he was defeated by Ayano, his father banished him from the house in disgrace. Kazuma ran off and changed his surname to Yagami. He formed a contract with the spirit of wind and becomes a powerful wind user. Four years later, he returned.

Four years ago, Kazuma Kannagi was defeated by his cousin Ayano Kannagi for the right to be the successor of Enraiha, a sword passed down in the Kannagi family. His defeat, along with his lack of talent for En-Jutsu, the fire arts, the Kannagis' specialty, resulted in his banishment from the family. Now, Kazuma returns as Kazuma Yagami, a skilled master of Fū-Jutsu, the wind arts.

Source: ANIMENEWSNETWORK.COM
Yep, another favorite of mine. In my opinion words alone can not convey how good this anime is and how much I enjoyed it. You just need to check it out for yourself to experience it.
( only 4 in this section because as I said battle Shounen is not my favorite kind of anime )
 .
.
ROMCOM or ROMANTIC COMEDY: Now this is one of my favorite types of anime. I will not be including any Harem Anime here even though they typical would be a romantic comedy. The reason is that they will have there own category.
.
1) my teen romantic comedy SNAFU
SYNOPSIS
Hachiman Hikigaya is an antisocial high school student with no friends or girlfriend and as a result has a distorted view on life. When he sees his classmates talking excitedly about their adolescent lives, he mutters, "They're a bunch of liars." When he is asked about his future dreams, he responds, "Not working." A teacher gets Hachiman to join the volunteer "service club," which happens to have the school's prettiest girl - Yukino Yukinoshita.

Source: ANIMENEWSNETWORK.COM
This anime was is very good, especially if you like the anti-social protagonist trope. I find it very enjoyable to watch Hiki help people solve their problem by turning himself into the bad guy. Since he doesn't care what other people think about him he purposely gets others pissed at him so that they come together against him and in the process get them to work out their issues. His approach to helping others however causes some issue with his two love interests in the anime.
2) Kaichou wa Maid-sama
Synopsis
Misaki Ayuzawa is the first female student council president at a once all-boys school turned co-ed. She rules the school with strict discipline demeanor. But she has a secret—she works at a maid cafe due to her families circumstances. One day the popular A-student and notorious heart breaker Takumi Usui finds out her secret and makes a deal with her to keep it hush from the school in exchange for spending some time with him.
3) Mayo Chiki!
Synopsis
Kinjirō Sakamachi has gynophobia (fear of women), due to his violent mother and sister. Subaru Konoe is the butler of his classmate, Kanade Suzutsuki, and has to dress as a male due to butlers having to be men. When Kinjirō discovers Subaru's secret, Kanade promises to cure Kinjirō of his phobia. Kinjirō and Subaru are forced due to circumstances to spend time together and defend Subaru's secret while trying to cure Kinjirō's fear.

Source: ANIMENEWSNETWORK.COM
I am convinced that Kanade is a sadist, the situations she forces her Subaru and Kinjirou into! However it is those situations that add to the comedy aspect of this anime as well as leads to the actual "romance" forming!
4) Urusei Yatsura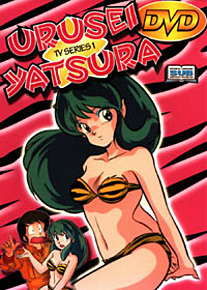 Synopsis
Earth faces a huge crisis. Aliens want to invade the planet. Humanity's only hope rests with Ataru Moroboshi, who was chosen to represent Earth in a one-on-one duel with the aliens' chosen warrior. There is only one problem with this plan. Ataru is a womanizing, stupid loser. How in the world can he hope to succeed?

Selected to fight for the aliens' right to take over Earth is Lum, their curvaceous, bikini-clad princess. Luckily for Ataru, the duel takes the form of a game of tag. All he has to do to win is grab Lum's horns. Not so luckily for him is the fact that she can fly and, being a normal human, he most definitely cannot. Just when it looks like Ataru is destined to fail, his girlfriend Shinobu makes him a promise: she will marry him if he can win.

The encouragement is enough to motivate Ataru to succeed. But just when it looks like Earth is saved, he faces another problem. Lum misinterprets something he said and thinks that they are now married! Urusei Yatsura follows the unlikely relationship between the lecherous Ataru, the beautiful alien Lum, and all of the strange people they meet along the way.
Source: MYANIMELIST.COM
An oldie but a real goodie!! Hilarity ensues when horndog Ataru gets on the wrong side of his new "Fiance" the alien Lum with "Shocking" results!
5) Onegai Teacher
Synopsis
Kusanagi Kei, a high-school student living with his aunt and uncle, has an encounter with a female alien. This alien is revealed to be a new teacher at his school. Later, he is forced to marry this alien to preserve her secrets. From there, various romantically-inclined problems crop up repeatedly.
Source: ANIMENEWSNETWORK.COM
HAREM ANIME: Usually falls into the ROMCOM category but revolves around one Male protagonist being pursued by 3 or more ladies out to capture his heart, and this genre is one of my guilty pleasures.
1) Ranma 1/2
Synopsis
Ranma Saotome is a top-class martial artist and prodigy at the Saotome "Anything-Goes" school of martial arts. While training in China, he and his father meet a terrible fate when they accidentally fall into a cursed spring. Now, Ranma is cursed to turn into a girl when splashed with cold water, and only hot water can turn him back into a boy.

Things are only complicated further when Ranma discovers that his father has arranged for him to marry one of Soun Tendo's three daughters in order to secure the future of the Tendo dojo. Though Soun learns of Ranma's predicament, he is still determined to go ahead with the engagement, and chooses his youngest daughter Akane, who happens to be a skilled martial artist herself and is notorious for hating men.

Ranma ½ follows the hilarious adventures of Ranma and Akane as they encounter various opponents, meet new love interests, and find different ways to make each other angry, all while their engagement hangs over their head.
Source: MYANIMELIST.NET
This is one of the first Animes I watched some 25 years ago when I first became a fan of the medium and is still a favorite of mine today!
2) Shuffle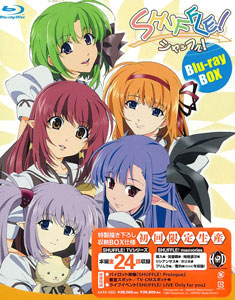 Synopsis
In present times, Gods and Demons coexist together with Humans after the door between each of these worlds had opened. Tsuchimi Rin is a normal young high school student attending Verbena Academy, spending his days living peacefully with his childhood friend Kaede. Unexpectedly, one day the King of Gods, the King of Demons and their families move into be Rin's next door neighbors. Apparently the daughter of the Gods, Sia, and the daughter of the demons, Nerine, are both deeply in love with Rin after having met him in the past. Along with his playful friendship with upperclassmen Asa and his encounter with the silent but cute Primula, Rin has much on his hands dealing with the affections of each of these girls. Based on the eroge by Navel.
Source: MYANIMELIST.NET
This is one of the few Harem Anime that has a conclusive ending where the protagonist actually chooses one of the girls to offically date! Thought I personally believe that Rin choose the wrong girl!
3) Nisekoi
Synopsis
Despite having seemingly quelled the war between their respective gangs, Raku Ichijou and Chitoge Kirisaki still carry on with their fake relationship. Eventually, as Chitoge's perception of Raku slowly changes, she even begins to see him as a little charming.

Chitoge struggles to come to terms with her newfound feelings for Raku, as a new girl joins the slew of Raku's admirers and the competition among those vying for the yakuza heir's attention grows even fiercer. And amidst all this, Raku's search for his first love and the contents of the mysterious sealed locket continues in Nisekoi:, which picks up where the first season left off.
Source: MYANIMELIST.NET
4) Tenchi Muyou
Synopsis
Tenchi Masaki may be a 17-year-old young man in rural Japan, but little does he know how bad his day will be getting. When a space pirate chased by a pair of Galaxy Police officers crash-lands at his grandfather's temple, Tenchi is sucked into a new adventure that will literally blast him off into outer space and beyond.
Source: MYANIMELIST.NET
The Quintessential Harem Anime, which has has reboots and remade by the scores so that all possible solutions to the harem problem has actually been tried in one version or another. Tenchi chooses none of the girls, he chooses one of the girls, he chooses all the girls etc.
5) Futakoi
Synopsis
With his mother dead and his father working abroad, Futami Nozomu returns to the town where he lived as a child, to attend high school and work part-time at a local shrine. He soon finds himself caught up in a local legend of twin girls loving the same man. And there are many twin girls in this town....
Source: MYANIMELIST.NET
A unique harem in this one, not a single guy just being pursued by various different girl, no in this one he is pursued by several sets of identical twin sister! It was a very enjoyable anime and one I plan on rewatching someday myself.
MECHA ANIME:  A rather self explanatory category, and another one that I am not the big on personally, though there are some gems out there!
1) Super Dimensional Space Fortress Macross
 Synopsis
After a mysterious spaceship crashes into Earth, humanity realizes that they are not alone. Fearing a potential threat from space, the world pushes aside their nationalism, conflicting interests, and cultural differences, unifying under the banner of the United Nations. The newly formed UN forces decide to repurpose the alien spacecraft, naming it SDF-1 Macross. Unfortunately, on the day of its maiden voyage, a fleet of spaceships belonging to a race of aliens known as Zentradi descend upon Earth, and the SDF-1 Macross, acting of its own accord, shoots down the incoming squadron, sparking an intergalactic war.

In an attempt to escape, the Macross tries to launch itself into the Moon's orbit, but the ship—as well as the city was in—is teleported to the far reaches of space. Caught up in the mess are Hikaru Ichijou, a free-spirited acrobatic pilot, and Minmay Lynn, an aspiring idol. Together, alongside Macross's bridge officer Misa Hayase, they experience an epic journey rife with grief and drama as they begin their trek back to Earth, facing with the cruelties of war along the way.

Source: MYANIMELIST.NET
It was this anime that was used as the core animation for the American cartoon Robotech, much like the Anime Go Loins was used as the core animation for Voltron.
2) Neon Genesis Evangelion
 Synopsis
In the year 2015, the world stands on the brink of destruction. Humanity's last hope lies in the hands of Nerv, a special agency under the United Nations, and their Evangelions, giant machines capable of defeating the Angels who herald Earth's ruin. Gendou Ikari, head of the organization, seeks compatible pilots who can synchronize with the Evangelions and realize their true potential. Aiding in this defensive endeavor are talented personnel Misato Katsuragi, Head of Tactical Operations, and Ritsuko Akagi, Chief Scientist.

Face to face with his father for the first time in years, 14-year-old Shinji Ikari's average life is irreversibly changed when he is whisked away into the depths of Nerv, and into a harrowing new destiny—he must become the pilot of Evangelion Unit-01 with the fate of mankind on his shoulders.

Written by Hideaki Anno, Neon Genesis Evangelion is a heroic tale of a young boy who will become a legend. But as this psychological drama unfolds, ancient secrets beneath the big picture begin to bubble to the surface...
Source: MYANIMELIST.NET
3) VanDread
Synopsis
In Vandread, men are from Mars and women are from Venus! Well, not quite. Technology has allowed mankind to colonize the entire Milky Way galaxy, and in one star system, the men and women live on two different planets, Taraak and Mejere. A bitter and very literal gender war rages, to the point where they don't even see each other as the sames species anymore!

Hibiki Tokai, a male third-class laborer from Taraak, ends up stuck on a battleship after a botched attempt at stealing a robot. When female pirates capture the Taraakian Vanguard, things don't look like they could get any worse for Hibiki. Unfortunately, they do; when the male crew of the Vanguard fire on their captured vessel out of desperation, they created a giant wormhole, which sucks the Vanguard and the Mejeran pirate's ships into itself! Now, stuck far away from their home planets, these men and women must learn to work together if they ever wish to make it back home.
Sorce: MYANIMELIST.NET
4) Gunbuster
Synopsis
In the near future, humanity has taken its first steps towards journeying into the far reaches of the galaxy. Upon doing so they discover a huge race of insectoid aliens known as "Space Monsters." These aliens seem dedicated to the eradication of mankind as they near closer and closer to discovering Earth. In response, humanity develops giant fighting robots piloted by hand-picked youth from around the world.

Shortly after the discovery of the aliens, Noriko Takaya, the daughter of a famous deceased space captain, enters a training school despite her questionable talents as a pilot. There, she meets her polar opposite, the beautiful and talented Kazumi Amano, and is unexpectedly made to work together with her as they attempt to overcome the trauma of war as well as their own emotions.
Source: MYANIMELIST.NET
This Anime from 1988 is another one that I originally watched when I first became an Anime fan myself. I loove the story AND I love the science behind faster than light space travel and the consequences of doing so, naming Aging slower than your friends and family and and having them all die of old age while you are off on the front lines fighting a war!
5) Bubblegum Crisis Tokyo 2040
Synopsis
After a mysterious earthquake levels Tokyo, Genom becomes a powerful influence providing their artificial organic lifeforms called Boomers to rebuild and act as a labor class to humanity. However, some of them ocasionally run amok, and even the specially created AD Police are at a loss to stop them. Lina Yamazaki travels to Tokyo for employment but also hopes to join a vigilante force called the Knight Sabers, who pilot powered suits to destroy these rogue Boomers.
 Source: MYANIMELIST.COM
I don't know if this actually qualifies as Mecha, as it is more power armor then giant robot, but I am still counting it as such!
Well that is my list of Gift recommendations, it certainly doesn't cover all the good anime in the categories I listed and certainly doesn't cover all possible Genre's of anime. That's where you all come in! In the comments below share with us your own recommendations as well as commenting on the ones I made!