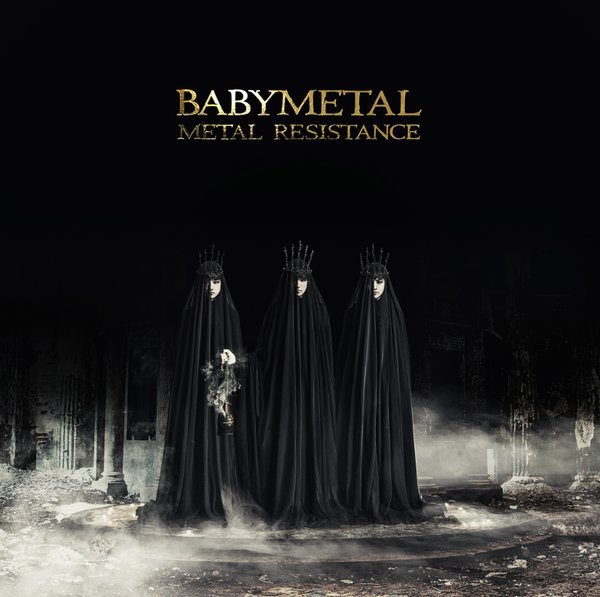 The new Album By Babymetal, "Metal Resistance" dropped today and Of course as a fan I am going to review it! .... See you after the Jump!
Let me start off by saying I have been waiting a LONG TIME for this album! I just purchased the digital download of the album from amazon and thought I have heard a number of the songs from the album ahead of time (5 of them have been performed live or had official video releases to date ) this is the first time I am hearing the entire album. I am going to listen to it now and I will be giving you my thoughts on each song as I listen to them. When Available I will link to a video for each song so I can share some of the experience with you all!
Lets Get Start:
Track 1: Road Of Resistance
This song is not new to me as the Babymetal have been performing it for nearly a year and a half. It was first performed live in London England in December of 2014 and was included as a bonus track on the release of the Groups first album following their signing by Sony Record. The song does show a growth in the groups still since the release of their original album. It has more of a metal feel to it then the mix of J-pop and Metal of the first album.
The Music here was written and originally performed by British Power Metal group DragonForce. So as you'd expect it has some by Guitar riffs and killer drum beats. The singing is also great! Very anthem like, Suzuka aka Su-Metal has a great voice and it has matured over the years as this song shows. She was 17 when this song was first performed and 18 years old now ( 16 when the first album dropped ) you can hear the age difference in her voice and she is only getting better.
***************
Track 2: Karate
The Official video for this song was released about a week and a half ago and all I have to say is WOW!!! This song made many Babymetal Nay Sayers take a second look at this group.  The Song is very powerful both instrumentally and vocally and Just screams metal! This may be my new favorite Babymetal Song (though Ijime, Dame, Zettai  may continue to edge it out a tiny bit)
***************
Track 3: Awadama Fever
Ok, this song is more like their first album. Awadama Fever is very bubbly which I think makes sense since it is about Bubblegum! Which not the mature metal like songs of the previous 2 track it is still a fun song to listen to and if you liked Babymetals first album ( like I did ) you should like this song.
***************
Track 4: Yava!
To be honest I don't think I like this song. It sound like it should be the end theme to some anime series, but which Su's vocals are performed real well in this song I find I am not liking the style of the song very much. I might change my mind with additional run throughs as there were a few songs on the original album that I didn't like at first but now love.  Musically I'd have to say it is very generic Rock music sounding, but just something about it that is not sitting well with me at the moment.
**************
Track 5:  Amore
Another basic rock song, but this one appeals to me much more then Yava. I think this one my be a Solo track by Su as I don't think I heard Yui or Moa's voices once during this song. Good song, but not a great song
***************
Track 6: Meta Taro
This song sounds like it belongs to a late 80's or early 90 outer space military Anime as it has the Miltary marching song quality to it. By all rights I shouldn't like this song but God help me I find that I do!
***************
Track 7: From Dusk Till Dawn
Nope, HATE this one. Very Evanescence sounding which is not my thing, not in the least!
***************
Track 8: GJ!
Black Babymetal is back! *( It's what the Duo of Yui-Metal and Moa Metal are called when Su is not performing with them ) This song has me a bit confused but I find I enjoy it. Instrumentally it is VERY HEAVY METAL, vocally it is a Mix of Rap and Rock.
***************
Track 9: Sis Anger
Solo performance from one of the Black Babymetal duo. I think it is Yui though I am not sure as her and Moa's voice are similar enough it is hard to tell them apart at time. This song has a very Thrash metal feel to it. I think I like it but will diffidently take some additional listens to be sure.
***************
Track 10: No Rain, No Rainbow
This is a Su-Metal solo song and is the definition of power ballad! Su performed this song live MANY years ago at a live performance ( I believe it predates the release of the first album ) and I just love this song. From
http://www.dailymotion.com/video/x3u0t1e_black-night-no-rain-no-rainbow_music
***************
Track 11: Tales of Destinies
In the vain of iine from the first album, this song is a jumbled mes and is all over the map musically switch genre and style constantly. iine is my least favorite song from the first album and this song remind me way to much of iine thought it is performed batter then iine was. I doubt I will be listening to this one all that much.
***************
Track 12: The One ( English Version )
Babymetal officially released a video for "the One" only a few days ago which was mostly English but was also about 30%-40% Japanese. This version on the album is sung completely in english. It is a epic 6 1/2 minute ballad and prefect for the albums closing track! Music and vocal are great, Su's voice is superb and her english? Oh my God Her english though processing an an obvious accent is clear and easily understood and hearing her sing in it is a true treat! I LOVE this song.
If you Turn Close Captions On for this video you will get English Subtitles. (remember this video has some Japanese lyrics while the song on the album is 100% english )
***************
Final Thoughts:
As a Babymetal Fan I find this to be a Solid album and though there are a couple songs I don't like I think it is even better then their first effort. Their music is growing up with them, both instrumentally ( The Kami Band is awesome and crucial to Babymetal ) and Vocally. I think this album proved that Babymetal isn't just a fad and that they will be around a long time, at least I hope so.
Bonus: Here is a video interview of BabyMetal ( all in English ) where the girls tell us their favorite songs from the new album -