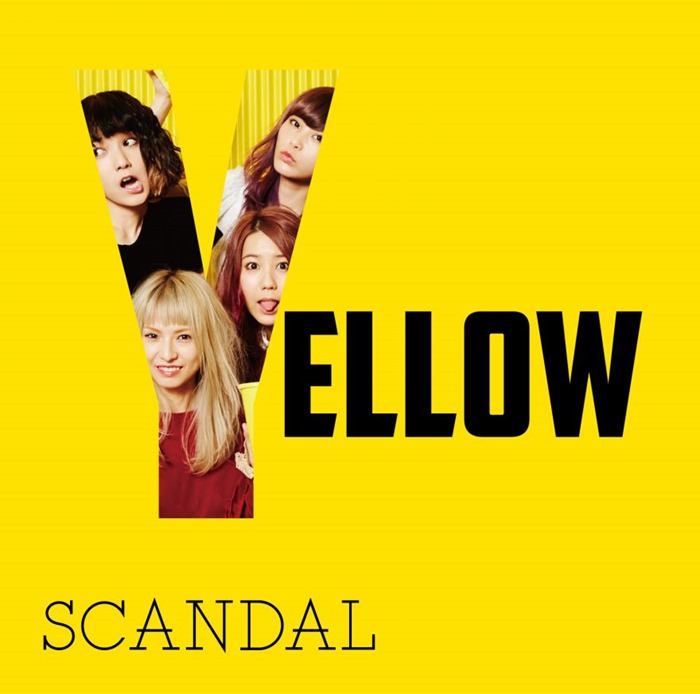 Well folks I am certain you are all getting tired of hearing about my love of Japanese J-Rock and of Scandal in particular, but this is my pizza party and I will fanboi if I want too!!
On March 2nd 2016 Scandal released their 7th studio album "Yellow" and I just purchased a digital copy this weekend from Amazon and here are my thoughts on it!
Track One: Room #7
Well as much as I love Scandal and their music this first track of the new album disappointed me. It is purely instrumental and while it has a good beat I personal have a strong dislike to instrumentals. It's a personally thing with me, just do not like a song I can't sing along with!
Track Two: Stamp!
Nothing new here, Stamp! has been out as a single for 6 or 7 months already. It is a good song with a new cheerful sound to it, and a video ( if you can find it as it is region locked on youtube ) that is a visual treat in my opinion.
Track Three: Love Me Do
This song seems to have a very heavy pop influence which isn't normally my thing but Scandal Pull it off well here. This song is one that I had to listen to a couple time before it grew on me, but now that it has I find it very enjoyable.
Track Four: Morning Sun
A very mellow sounding song. though I haven't looked up the English lyrics for most of these songs yet it sounds very ballad like but I won't know for sure until I get a translation ( my Japanese studies have not progressed that far yet ).
Track Five: Sunday Drive
Another fun sounding song, the lyrics seem a like mild for the upbeat instrumentals but fun. I heard this song was written by Bass player and secondary vocalist Tomomi after she purchased her first car.
Track Six: Konya Wa Pizza Party
Ha, see what I did there with this songs title and my post opening! ... yeah lame joke ,, moving on. This song has a very upbeat melody but not sure I like it. I might have to listen to it more for it to grow on me and that's a shame because Tomomi is the one singing it and god do I love that woman's voice!
Track Seven: Heaven Na Kibun
A very grung sounding song. Great vocals and a good beat to it. This is another case of me not usually being a fan of the style but in this case I find I really like this song.
Track Eight: Suki-Suki
I good song, but not a great song. I like it and can listen to it repeatedly but it has no chance of becoming one of my top 10 Scandal songs! This song is certainly a rock song but the slower pacing then the average Scandal song has to feeling slightly popish.
Track Nine: Love
You instantly know that this is a Love song ( as if the title didn't give that away ) and I Love the vocals. Haruna's voice is very well suited to this type of song, however I am not a fan of the instrumentals of this song.
Track Ten: Sisters
Another song that isn't new to me as it has been out as a single almost as long as Stamp!. Heavy techno influence at the opening of this song, but quickly turns into a normal soft rock like song. I initially hated this song when I first heard it. I think it was techno part that turned me off so much but I got over it and now enjoy this song.
Track Eleven: Happy Birthday
This song is very heavy on the drums as they seem to be the most prominent sound in the instrumental with the guitars and bass taking a major backseat to them for the majority of the song. It is a good solid song with a catchy tune that makes you want to bob along with the beat.
Track Twelve: Chiisana Honoo
This is easily my favorite song from this album, but that I have always been a sucker for soft rock / ballads and that just what you get here. There is Nothing about this song that I dislike and will certainly be knocking something out of my current top 10 scandal songs! Just pure gold!
Bonus Track
Track Thirteen: Your Song - English Version
This one would have been my favorite song on this album if not for Chiisama Honoo. The Song - Your Song, was originally from Scandals last Album "Hello World" but this time around that are all singing in English instead of Japanese. I will admit that the girl's accents are all very thick and heavy and it can be hard to understand what they are saying. Haruna is usually very clear but Tomomi and Mami are very hard to understand. I had to read the lyrics and listen to the song a few time to get my ear tuned right to hear the words. That being said I think their english is very Kawaii, especially Tomomi ( again I love her voice ). I am not sure if this one will make it in my top ten of not but it's close!
Final thoughts:
Over all I think it is a good solid and enjoyable album worth every penny I paid for it, but it isn't as good as Hello World was. Also I am disappointed that the album was almost all Haruna on vocals. I Know she is the "lead" vocalist and all but still On "Hello World" Tomomi, Mami, and Rina all had their own songs that they took lead in and Tomomi usually shares vocal duties with Hurana on most of SCANDALS songs but not on this album.
Here is a bit of a bonus. A two part Video series with Scandal talking about they new album and the songs on it I just found on Dailymotion:
Part 1
Part 2