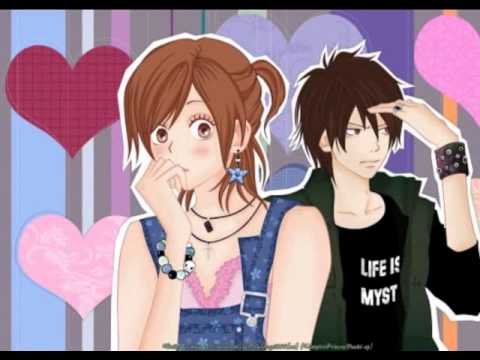 Considering Valentines day is right around the corner I decided on this edition of Anime Talk I would give you my personal top 10 list of Anime Rom-Coms or Romantic Comedies! So without further delay we will begin with number 10 right after the Jump ....
#10: Kaichou wa Maid-sama
Being the first female student council president isn't easy, especially when your school just transitioned from an all boys high school to a co-ed one. Aptly nicknamed "Demon President" by the boys for her strict disciplinary style, Misaki Ayuzawa is not afraid to use her mastery of Aikido techniques to cast judgment onto the hordes of misbehaving boys and defend the girls at Seika High School.

Yet even the perfect Ayuzawa has an embarrassing secret—she works part-time as a maid at a maid café to help her struggling family pay the bills. She has managed to keep her job hidden from her fellow students and maintained her flawless image as a stellar student until one day, Takumi Usui, the most popular boy in school, walks into the maid café. He could destroy her reputation with her secret... or he could twist the student council president around his little finger and use her secret as an opportunity to get closer to her.

( Source: http://myanimelist.net/anime/7054/Kaichou_wa_Maid-sama )
***************
#9: Toradora
Despite Ryuuji Takasu's gentle personality, his eyes make him look like an intimidating delinquent. Class rearrangements on his second high school year put him together with his best friend, Yusaku Kitamura, and his hidden crush, Minori Kushieda. Along with these two comes Kushieda's best friend, Taiga Aisaka. Her delicate appearance contrasts with her brutal personality. Secretly in love with Kitamura, Taiga agrees to help Ryuuji with his love interest as long as he helps her get closer to hers.

(Source: http://myanimelist.net/anime/4224/Toradora)
***************
#8: Is it Wrong to Try To Pick Up Girls In A Dungeon
Commonly known as the "Dungeon," the city of Orario possesses a huge labyrinth in the underground. Its strange name attracts excitement, illusions of honor, and hopes of romance with a pretty girl. In this city of dreams and desires, new adventurer Bell Cranel has his fateful encounter with the tiny Goddess Hestia.

Thus begins the story of a boy striving to become the best adventurer and a lonely goddess searching for followers both working together to fulfill their goals.

(Source: http://myanimelist.net/anime/28121/Dungeon_ni_Deai_wo_Motomeru_no_wa_Machigatteiru_Darou_ka)
***************
#7: Love, Chunibyo & Other Delusions
Yuta Togashi has a problem. He used to be a "chunibyo," one of the thousands of Japanese students so desperate to stand out that they've literally convinced themselves that they have secret knowledge and hidden powers. But now that he's starting high school, he's determined to put aside his delusions and face life head on. The trouble is Rikka Takanashi, his upstairs neighbor, is just a little bit delusional herself. And she knows all about his past indiscretions.

(Source: http://www.crunchyroll.com/love-chunibyo-other-delusions)
***************
#6: Nisekoi
Raku Ichijou, a first-year student at Bonyari High School, is the sole heir to an intimidating yakuza family. Ten years ago, Raku promised his childhood friend that they would get married when they reunite as teenagers. To seal the deal, the girl had given Raku a closed locket, the key to which she took with her when she left him.

Now, years later, Raku has grown into a typical teenager, and all he wants is to remain as uninvolved in his yakuza background as possible while spending his school days alongside his middle school crush Kosaki Onodera. However, when the American Bee Hive Gang invades his family's turf, Raku's idyllic romantic dreams are sent for a toss as he is dragged into a frustrating conflict: Raku is to pretend that he is in a romantic relationship with Chitoge Kirisaki, the beautiful daughter of the Bee Hive's chief, so as to reduce the friction between the two groups. Unfortunately, reality could not be farther from this whopping lie—Raku and Chitoge fall in hate at first sight, as the girl is convinced he is a pathetic pushover, and in Raku's eyes, Chitoge is about as attractive as a savage gorilla.

Nisekoi follows the daily antics of this mismatched couple who have been forced to get along for the sake of maintaining the city's peace. With many more girls popping up his life, all involved with Raku's past somehow, his search for the girl who holds his heart and his promise leads him in more unexpected directions than he expects.

(Source: http://myanimelist.net/anime/18897/Nisekoi )
***************
#5: Inu X Boku SS
The Shirakiin house's daughter, Shirakiin Ririchiyo, who has a complex about being unable to live independently and unprotected, feels the need to move out and live on her own under the condition of residing in the mansion named "Ayakashi Kan." In this mansion, only those who have cleared a very strict examination could reside in it, and for each resident, they are accompanied with one agent of the Secret Service (S.S.). Although Riricho has rejected the company of the S.S., while residing in the mansion she finds out that the agent dedicated to protecting her is actually the Fox Spirit.

(Source: http://myanimelist.net/anime/11013/Inu_x_Boku_SS?q=inu%20x )
***************
#4: My Teen Romantic Comedy SNAFU!
Hachiman Hikigaya is an apathetic high school student with narcissistic and semi-nihilistic tendencies. He firmly believes that joyful youth is nothing but a farce, and everyone who says otherwise is just lying to themselves.

In a novel punishment for writing an essay mocking modern social relationships, Hachiman's teacher forces him to join the Volunteer Service Club, a club that aims to extend a helping hand to any student who seeks their support in achieving their goals. With the only other club member being the beautiful ice queen Yukino Yukinoshita, Hachiman finds himself on the front line of other people's problems—a place he never dreamed he would be. As Hachiman and Yukino use their wits to solve many students' problems, will Hachiman's rotten view of society prove to be a hindrance or a tool he can use to his advantage?

(Source: http://myanimelist.net/anime/14813/Yahari_Ore_no_Seishun_Love_Comedy_wa_Machigatteiru )
***************
#3: Shomin Sample
In a hidden school surrounded by mountains, young ladies of good families are taught everything a high class lady needs to know. They are also completely cut off from the outside world, keeping them sheltered and innocent; however, a problem has come up recently—more and more graduates are failing to cope with the modern world after graduation. To deal with this problem, they've decided to kidnap a male commoner student, and enroll him as a student. They hope that this will be a gentle way to introduce the girls to the outside world.

Kagurazaka Kimito is chosen for this dubious honor, mostly because he seems utterly average; however, the school leaders also seem to have concluded he's a homosexual with a muscle fetish. When Kimito hears that the alternative may be castration (to protect the girls' purity), he eagerly plays along with this misconception. Now he'll just have to survive the attention of many high class young ladies that are completely out of touch with the world!

(Source: http://myanimelist.net/anime/25099/Ore_ga_Ojousama_Gakkou_ni_Shomin_Sample_Toshite_Gets%E2%99%A5Sareta_Ken )
***************
#2: Mayo Chiki:
http://www.dailymotion.com/video/xxzva4_mayo-chiki-opening_webcam
When you've got acute gynophobia, even a pretty girl can be a malady, and as the sparring partner for his family of female wrestlers, Sakamachi Kinjiro has the worst case EVER! Just one touch makes his nose bleed, so school's a bloody nightmare even before Kanade, the Principal's twisted daughter, deduces both Kinjiro's "feminine issue" AND that his name contains the sounds "Chi" and "Kin" back to back. But Chi-Kin's female troubles don't totally redline until a wrong turn in the men's room exposes the secret Subaru, Kanade's manservant, has been hiding in the water closet. (Well, to be fair, we should say WOmanservant.) And if Subaru's cross reactions concerning her cross-dressing aren't enough of a drag, Kinjiro's girl problems also include a haunted martial artist (with ghosts); a cat-eared fetishist (meow!); AND his own sister, whose interest in "wrestling" a certain incorrectly packaged butler may result in an unexpected ending! And that's JUST the set up!

(Source: http://myanimelist.net/anime/10110/Mayo_Chiki )
***************
#1: Ranma 1/2
Ranma Saotome and his father, Genma, both practitioners of the Saotome school of anything-goes martial arts, fall into the cursed springs of the legendary training ground of Jusenkyo in mainland China during a training mission. Each spring holds a different curse for any who come in contact with its water, all of which involve who or what has drowned in the spring in the past - Ranma emerges from the spring a girl and Genma a panda, both now cursed to change forms each time they come in contact with hot and cold water.

At the end of their training mission, Genma decides to take up residence with his old training partner, Soun Tendo, owner of the Tendo dojo and head of the Tendo school of anything-goes martial arts, dragging a reluctant Ranma along with him. Soun and Genma discuss the arrangements they had made in the past involving Ranma becoming engaged to one of Soun's three daughters in order to combine the two schools and allow Ranma to inherit the Tendo dojo. It's informally decided that he is to be engaged to Akane Tendo, Soun's youngest daughter, and the two must put up with one another - and their engagement - as Ranma and his father settle into domestic life at the Tendo household.

(Source: http://myanimelist.net/anime/210/Ranma_%C2%BD)
***************
Where there you have it, my personal 10 favorite Rom-Com anime. Please feel free to share your favorite Romantic Comedy Anime in the comments below, especially is it did not make my list!