Last Week I asked you all to give me you best replacement dialogue for the following image: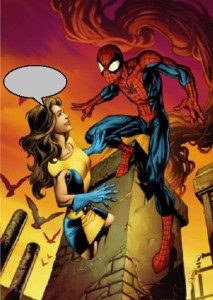 and these are my top five :
Lord_Obsidious : "Aaagh, spider on my chimney! Getitoffgetitoff!"
knighthawk: Black cat, shadowcat, close enough.
knighthawk: Dude, Cheech and Chongs fireplace!
KatmirStone:  "We need a better secret make-out spot, Peter."
Hammerknight: "Hey! What did you do with Santa?"
Of those five, the winner is .........................
Lord_Obsidious