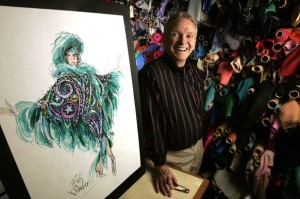 Robert Gordon "Bob" Mackie is an American fashion designer, best known for his costuming for entertainment icons such as Carol Burnett, Cher, Judy Garland, Diana Ross, Liza Minnelli, Tina Turner, and Mitzi Gaynor. He was the costume designer for Carol Burnett on The Carol Burnett Show during its entire 11 year run and designed the costumes for its spinoff, Mama's Family, and for the 1993 television adaptation of Gypsy.
Mackie was discovered by legendary costumer Edith Head in 1961 while working as a novice designer at Paramount Studios. Mackie designed costumes for the Las Vegas Strip-based burlesque shows, Hallelujah Hollywood, which was inspired by the Ziegfeld Follies and ran at the MGM Grand(now Bally's Las Vegas) from 1974 to 1980, and Jubilee!,  which has been running since 1981. Both productions involve intricate, elaborate costumes and grandiose sets. Images of many of Mackie's design drawings for these productions are available in the Showgirls collection from UNLV Libraries Digital Collections.
Two of Mackie's best-remembered creations had a humorous side. While working on The Carol Burnett Show, he designed a "curtain dress" (complete with a curtain rod across the shoulders) that Carol Burnett wore in the Gone with the Wind parody: Went with the Wind. Mackie also designed the garish ensemble worn by Cher at the March 1986 Academy Awards: black stretch pants, a bejeweled loincloth, knee high boots, a black chainlink top, and a huge feathered Mohawk headdress that was one and a half times taller than her head. Introduced by Jane Fonda with the words, "Wait'll you see what's gonna come out here," Cher was appearing as a presenter after what many considered an Oscar snub (Cher was not nominated for her performance in Mask). "As you can see," said Cher, "I did receive my Academy booklet on how to dress like a serious actress."
Mackie is often called the sultan of sequins, or the rajah of rhinestones, known for his sparkling and imaginative costume designs He has won nine Emmy Awards for his designs, and was nominated for three Academy Awards.
Mackie has said, "A woman who wears my clothes is not afraid to be noticed."
Mackie is also known for his exclusive dress designs for collector's edition Barbie dolls.
Mackie's vast celebrity client list includes...
Beyoncé, Carol Burnett, Cher
Whoopi Goldberg, Elton John, Liberace
Madonna, Pink
Diana Ross, The Supremes, and Tina Turner