Posted by: Matt  McGloin, Editor/Publisher September 13, 2013 20:06 | Updated: 1 day 10  hours Ago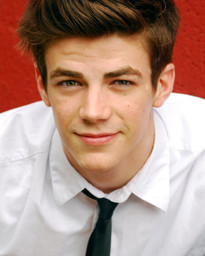 Grant Gustin is the  new Barry Allen - aka The Flash - set to appear in three episodes of Arrow Season 2 before getting his own spinoff series.
The 23-year-old actor is known for Glee and 90210 and will  appear in episodes 8, 9 and 20 of Arrow.
Barry Allen is described as an assistant forensics scientist working for  the Central City police department, where a string of unexplained robberies may  have a connection to a tragedy in his past. It's also said Barry Allen is a  comic book fan boy who is obsessed with the Arrow and is unaware  that working with Oliver Queen and Felicity to solve the crime has  brought him right into the dangerous world of the vigilante.
Greg Berlanti,  Andrew Kreisberg and  Geoff Johns will executive-produce the Flash spin-off, with David  Nutter directing the  pilot (Nutter also directed the pilot episodes for Arrow and  Smallville) and episode 20.
The Flash Arrow episode begins filming at the end of September.  Previously, Greg  Berlanti offered that  The Flash will have powers and the red suit.
"That said, he does need powers to become The Flash. And he will be The  Flash. He will wear a red costume, and he will go by that name."
Arrow Season 2 returns Wednesday, October 9th at 8pm ET on the CW;  it's thought The Flash episode will air in December.