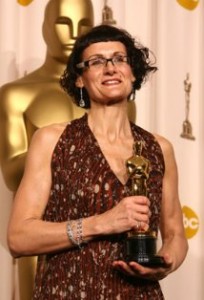 Alexandra Byrne
Costume Designer
Oscar Winner: Elizabeth: The Golden Age
Biography:
2014 300: Rise of an Empire (filming)
2012 The Avengers
2011 Thor
2008 The Garden of Eden
2007 Elizabeth: The Golden Age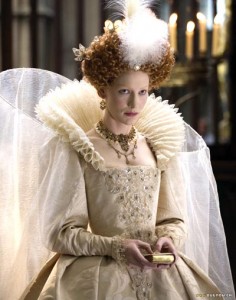 2007 Sleuth
2004 Finding Neverland
2001 Captain Corelli's Mandolin
1998 Elizabeth
1996 Hamlet
1995 Persuasion
1993 The Buddha of Suburbia (TV mini-series)
Wizard World Interview Excerpt:
Q: With Thor and with The Avengers, a lot of people
have fantasies about being super heroes. You might tie a red towel around your neck when you're a kid and say you're Superman, or you might cosplay as a adult. But you're making the costumes to be real, working outfits. What was that like?
A: Well the great things is that I was working with a lot of people who are absolutely experts in that field. I hadn't read the comic books before coming to Thor, so in a way the combination of somebody who's a complete novice, therefore, will question things and not be burdened with the baggage of you "He has to have this or he has to have that." It's a good combination to work with people who are so steeped in the world, so it means there's good dialogue and I'm not afraid to ask questions.
It can be difficult. You've got a guy with long blonde hair with a red cape swinging a hammer. You can't pretend it's not a challenge, but equally, one of the great things about costume design is that you have the actor, and you have costume. I always maintain that the actor, their very being, their physicality, their proportions, how they move, bring a huge amount to the design process, quite apart from their own part as an actor. It's, it's about making a body, a physicality work on camera. Chris Hemsworth is amazing. And the moment he steps in the room you think, "Ah, he's Thor." And you're working on something and you're solving how to translate the costume to him.
The red cape was interesting. That's a real practicality. We did a lot of work, did a lot of prototypes. And the result in the end is, I mean again, what I love about the process is that I could not have on day one said "The cape is going to be made of this and it'll be like this." You evolve and you grow with it. And the solution is it worked. It was amazingly un-high tech in its execution, but it was right. So it's all in combinations, but maybe that cape with the textures and the way it was made wouldn't have worked if the suit hadn't been made. It's a combination of information and sometimes it's contradiction and a juxtaposition that adds up to the whole costume.