Many thanks to all who entered Caption Challenge 131, which tasked you with writing replacement dialog for this random comics panel: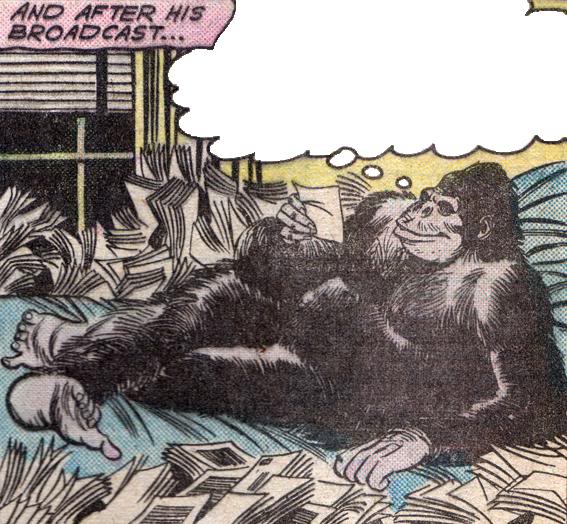 The ones that tickled my funny bone the most were:
Just Joe: "I want to be drawn like this…like one of his French girls…"
Bad Muthabox: "Dear Penthouse Forum, Let me tell you about the time I met Jane Goodall…"
Hammerknight: "Dear Jeff your instant hair grow commercials are great."
Hammerknight: "There's an Ape for that."
Gero: Look at all this fan mail! That Michael Jackson tell-all interview was genius!
Mark: I swear, if Peter Jackson sends me ONE more letter about a sequel…
Skybandit: Wow! All this hate mail is from Charleton Heston!
Bryce Wasley: I'd kidnap that and run up a construction site.
punkjay: These love letters from Jane Goodall are pretty steamy!
JR19759: Wow, it seems those rumours about monkeys and Shakespeare are true after all. It only took me two years to write 'The taming of the shrew'.
Galactic Ketchup: If these guys keep sending me this crap, I'm gonna start throwing them some of mine.
A lot of those are pretty equal in my mind, but since I'm under the gun here I'm going to go with Galactic Ketchup as my personal favorite: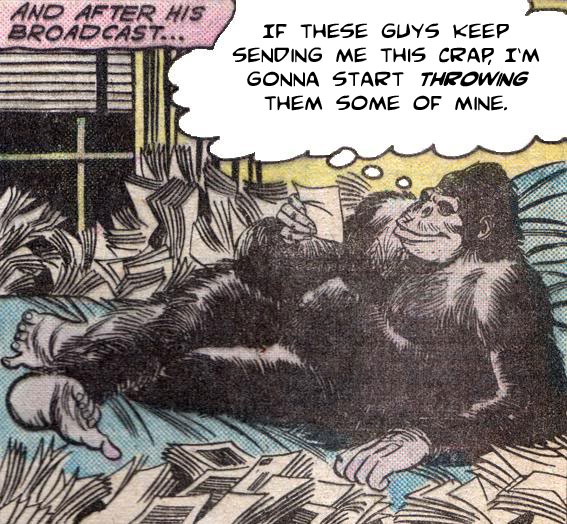 I thought it was a fairly subtle way of including the gorilla and the letters while explaining what it is he's reading. But they were all great!
Let me know what your favorite is in the comments, and thanks again to everyone who entered.