Many thanks to those who took the challenge yesterday to come up with a funny image from HeroMachine. I'm bummed about having to leave home for a business trip today so I needed the laugh. Here are all of the qualifying entries; click on any one to start the slideshow.
Among my favorites were Myro's (always up for a good nerd science pun!), Gendonesia, Iscarioto (it took a moment but I LOLed when I got it), AMS (unfortunately it wasn't named properly so isn't eligible for the win, but it was funny), Sir Awesome, Skybandit, and Watson Bradshaw.
And the winner is ... Iscarioto!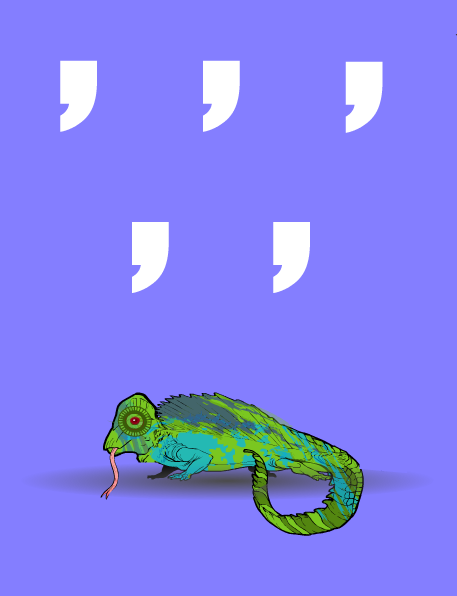 First of all it's a clever visual pun, which is an ideal way to use an image maker like this. Secondly, the chameleon is beautifully colored. And finally, the overall composition, both in terms of placing the elements and the coloring (white commas against the purple background), is excellent.
Congratulations to Iscarioto and thank you all for giving us some laughs!
Edited to Add: Since several folks don't get the joke, here goes. Read out loud, it's "Comma comma comma comma Chameleon", a visual pun on the lyrics from the 1984 classic Culture Club song, "Karma Chameleon". It's dated, but it just so happens the date fits with my own life. That was one of the first songs to break through to my teenaged awareness on MTV, when Boy George was confounding Middle America with his gender blurring.
It was one of those irritating songs that you couldn't decide if you really liked or not, but which you couldn't get out of your head.
I picked this one not only because it's beautiful, but because it is a true visual pun. That's a great use of something like HM.