Thanks to everyone who shared their humor with us in Caption Contest 122! I picked out a dew of my favorite lines of replacement dialog for this comics panel: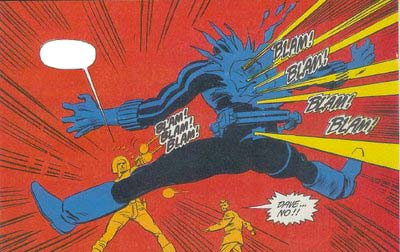 RobM: "I hate rhythmic gymnastics."
SongBird: Eat BLAM, Jazz Hands!
TOOL: Simon says DIE!
alphaalpharomeo: no, you don't move like Jagger
Dr. Shrinker: Did somebody say, "BLAM?!?"
E350: Three shots in, five shots out. I love this gun.
Myro:
"No, you're not in the Matrix. I'll prove it."
"Uh, Dave's not here, man."
And the winner is ... E350!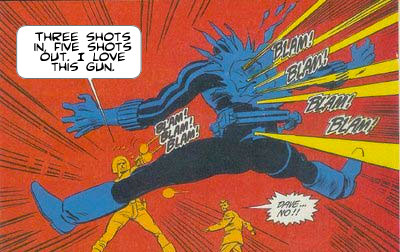 A lot of folks used the odd shot count (3 blams in, 4 blams out, yet 6 bullets exiting ... so I guess the math on the winning entry being off sort of makes sense), but I thought this one was phrased the best.
Congratulations, and thanks again to all who entered!