Although I'd prefer to do the old-style, all in-line images for our Character Contest 84 Finalists with commentary for each, the constraints of the day job mean I have to keep doing these galleries. I hope you'll take the time to click through these wonderful Finalists to get a sense for how awesome they are.
Without further ado, here are your Finalists from Atomic Punk, Barbario, BekK22, Cliff, Dangerfish, Diazmydiaz, Felipe S. Card, Gendonesia, Headlessgeneral, Jack Zelger, Jessica, Joel, Kaldath, Kaylin88100, Kingslaughter, MaDPac, Marquis Samedi (times three!), Myro, Papa Krok, Rhinoman, Roccopi Cuccurullo, Skybandit, Tarkabarka, TOOL, Vampyrist, and Wrinkley Walrus.
As for our winner, I had a very tough time making a decision. From Jack Zelger's Western-flavored mood piece with the great environment to Skybandit's hilarious Dwarf Vader to Rhinoman's delightfully proportioned Tinker to Papa Krok's always awesome work on Mage Mech to Myro's militant Fairy to Gendonesia's great elfin sniper (great background/rooftop on that one) to many more, I had an embarrassment of riches.
But I have to pick one and only one as the overall champion. So this week I went with ... Marquis Samedi's Mechadragon: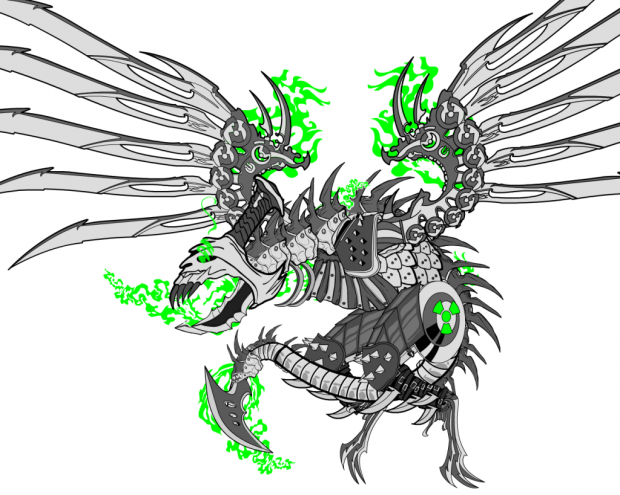 I love the Trekkie-style robot treatment, done beautifully here with a crazy mix of items. The anatomy looks very convincing and the energy effect totally works. The grayscale-and-green color treatment pops off the page and gives the whole composition a lot of oomph. I thought this was among the best thematic treatments of the contest concept and was a beautiful illustration in its own right.
So congratulations to Marquis Samedi and many, many thanks not only to our other outstanding Finalists but to everyone who entered for sharing with us your creativity and courage.