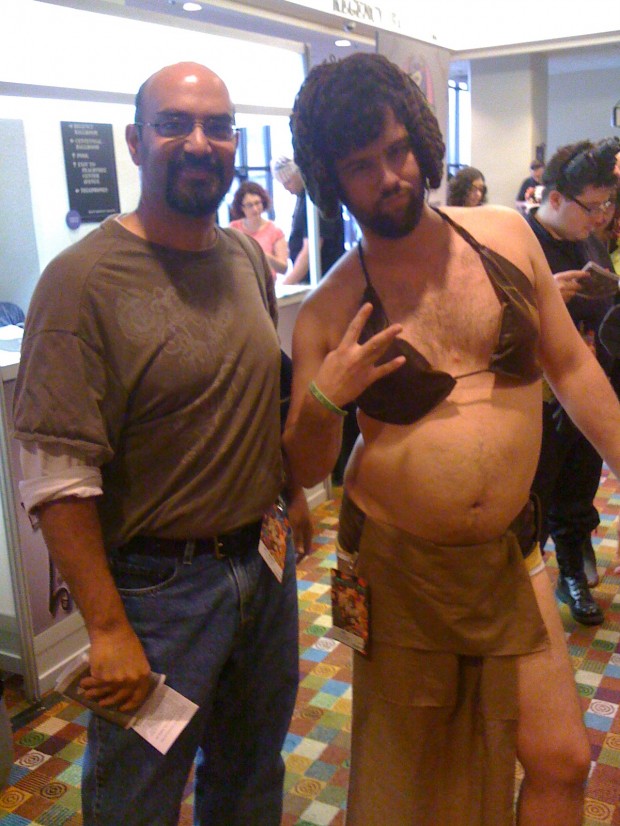 Dragon*Con starts this weekend, and for the first time in two years I won't be going. Possibly my favorite part of the whole experience is watching all the people turn out in costume, from the ridiculously elaborate Costume Contest people to the home-made Ma Kettle "Pot on the Head" frat guys showing up on a lark. I'm a little bummed, so I thought I would shamelessly leverage this space to live vicariously. Thus, my question for you, so we can all get to know each other a little better, is this:
Have you ever as an adult (or close to it) dressed up in any sort of super-hero/comic book costume, and if so, what did you dress as and why?
For being brave enough to share (bonus credit for photos!), you can ask me a question about whatever you like and I'll respond honestly. If I can't answer it for some reason, you can ask something else.
Note that by no means do you have to ask me anything to share your story, I know I'd love to hear it regardless.
So here's my answer to the main question:
For my thirtieth birthday, my wife threw a super-hero themed surprise party for me. Friends and family came in from all over, in full-on super costumes. Since I didn't know it was happening ahead of time, they recreated for me the outfit I used to run around my neighborhood in as a kid -- dish towel cape, sister's go-go boots, a meat tenderizer for Thor's hammer, and (best of all), my brother's American-flag-backed leather motorcycle gloves. This was as close as I could get, but it definitely brought back memories.
I have a photo here somewhere, but I can't find it 🙁 If I can get my hands on it some time today I'll post, but until then, I can't wait to hear your stories!