The results were tighter than I'd have thought, but ultimately we have opted to be Mucho Machon and eschew the use of our Oracular Safe Word, and instead stand by watching the ship trundle off in the loving metallic arms of Doctor Octopus' filthy love spawn. Let's see the consequences of our decision: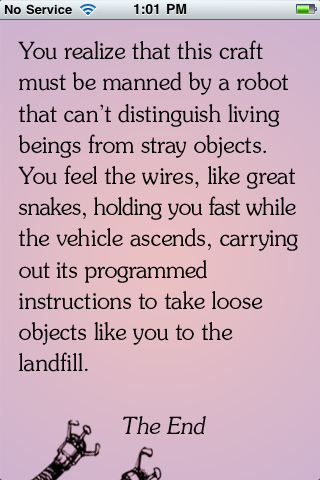 Well. That's ... humph. I'd say ending up as landfill is a pretty fitting end, since we largely spent this adventure standing around watching things happen. To our credit, we DID manage to reject a life of The Matrix, so yay us. I like to imagine that in the giant landfill we find, "Toy Story 3" style, all the items we need to return to power. Or, we get eaten by a trash monster, which seems a lot more likely.
So thus our foray into the Cavern of Time draws to an ignominious close. Or does it?
So what'll it be folks, flip back and change out decision like we all know we did with the actual books Back in the Day, or chuck it into the trashbin of history (much like our adventurer!) and move on to something completely different?