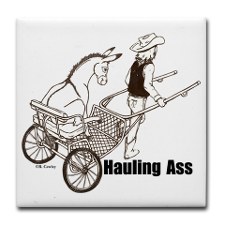 Full disclosure time: I'm actually in Arizona and have been for a couple of days, taking a sick donkey to the vet. Thus my posting schedule has been a bit messed up, and I apologize for that.
The long and short of it is that I am going to be driving nine hours towing a trailer today, so I won't be able to do Open Critique Day as planned; I'll be moving that to Saturday in all likelihood.
In a few minutes I'll be putting up a Bad Costume post that should have gone up yesterday, which got bumped because I missed Poll Position Tuesday due to the drive.
One day I'll get back on schedule and then you'll all be sorry!
Also, don't forget you only have till midnight tonight to vote on who should advance in Friday Night Fights!