In honor of the Saturday "Things I Love" post I missed, we're having a pop quiz today: What does Jeff love?
The NFL!
Where do you come in?
It's the REAL pop quiz -- for today only, the best sports logo built with the HeroMachine wins a custom black and white character sketch by yours truly! It could be one (and ONLY one!) of your personal characters, or an established one, whatever you like, just like you walked up to a pro at a convention and paid for a sketch.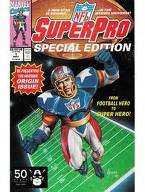 The rules are the same as for a regular contest, except for the time frame:
All entries must be left as a comment (or comments) to this post and should include the full name of the team in question (i.e. "The Gotham Dark Knights");
Entries must be in JPG or PNG format from any HeroMachine version (no editing in a third party program like PhotoShop, except basic cropping), posted as a link to the image on some publicly accessible web site (PhotoBucket, ImageShack, the UGO Forums, whatever);
The contest will end at some point tonight, when I am taking a break from my massive orgy of NFL consumption;
The goal is to design a logo for a fictional sports team, so you don't need to do a character wearing it, just the logo itself.
That's it, good luck everyone with our first ever one-day-only pop quiz! No limit on entries, so knock yourself out.