In the spirit of last week's question, which generated some great ideas and discussion, once again we bring ourselves to wonder what happens if we're not who we think we are:
Discussion to follow! And since last week the suggestions were all actual good ideas and not inappropriate in any way, I've left it open this time as well for you to put in your own answers. Make them good though!
You've been a sleeper agent for a while, and now you've been "activated" to regain your memories and identity and have been brought back to the main group to retake your rightful place.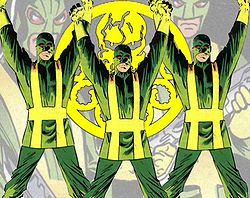 "We surrender! Can we take off these ridiculous outfits now please?"
Practically speaking the best choice is probably LexCorp, but I admit I think it would be cool to be an Evil Mutant. There's something to be said for just putting it out there that you're evil and you don't care who knows it. Plus I think it would be neat to have a mutant super power.
What about you, what would you pick?