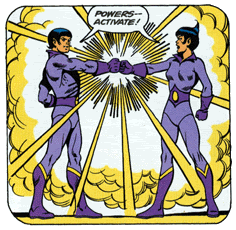 Wonder Twin powers, activate! Form of ... well, twins. Because your challenge for this week is to put together the best Twins Team (not in the Major League Baseball franchise sense) you can. If your pair is judged the best, you'll win your choice of any item you like, or a portrait of yourself, to be included in the final HeroMachine 3 release!
The rules are simple:
All entries must be links in a comment (or comments) to this post to an image hosted on a publicly accessible web site (ImageShack, PhotBucket, the UGO Forms, whatever);
No more than three total entries per person (each one entry consisting of twins);
Contest ends next Monday when I will announce the winners.
Unlike the "Duo Name" contest, the twins don't have to be a name pair like "Peanut Butter and Jelly" or "Hawk and Dove", although you could do something like that if you wanted.
That's it! Good luck everyone, I can't wait to see what you come up with.