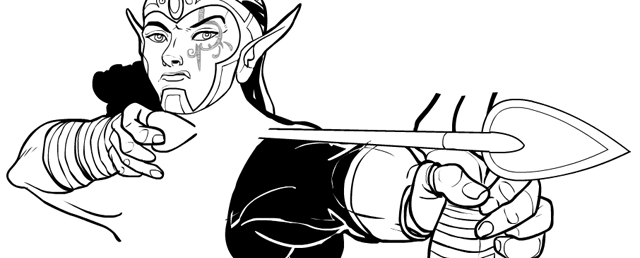 Your design challenge for this week is to create a super-powered modern-day character based on the name and general concept of a Dungeons & Dragons class. Examples from actual published comics would include the likes of Paladin, Wizard, and of course Rogue.
Note that in those cases the actual power set of the original class is sometimes only peripherally part of the actual character. Rogue does steal something -- powers -- which is pretty close, but she's not a trap springer or backstabber. You don't have to be limited like that, though; if you want, you can make a character named Rogue who would duplicate those D&D roles more perfectly. Or, you can go in a totally unexpected direction, say by making a psychic thief who steals memories or somesuch.
So, here are the rules:
All entries must be left as a link in a comment to this post;
Your linked character image should be on a publicly accessible web server (i.e. the UGO Forums or PhotoBucket or ImageShack or what have you);
The character must be named after one of the D&D classes on this list and should make me go "wow!" when I see it.
Next Monday I'll select the Finalists from all submissions, and one overall Winner who will receive his or her choice of either a custom item or a portrait of themselves, to appear in the final HeroMachine 3 version.
Good luck everyone!