We've got a two-balloon Caption Contest this week, so make sure your funny is double-barreled, kids. If you can come up with the funniest replacement dialog for this comic book panel: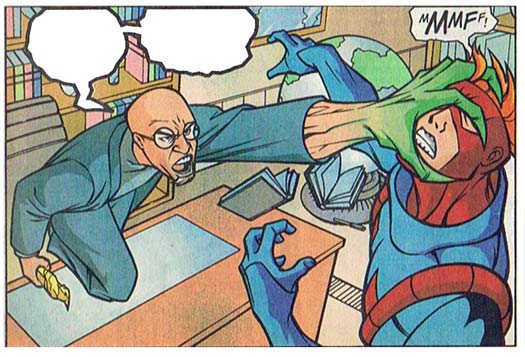 You'll win any item, or a portrait of yourself, to be included in the final HeroMachine 3 program. The rules are simple:
No more than three entries per person;
All entries must be left as a comment (all in one comment or separate ones, doesn't matter) to this post;
Must be relatively clean, appropriate for broadcast on late-night network TV, for instance.
That's it! Good luck everyone, we'll post the Finalists for voting next Monday.
Oh, also, make sure it's obvious which part of your entry goes in which balloon. For instance:
Entry 1:
Balloon1 - "Don't make my hand angry!"
Balloon2 - "Because you won't like it when it's angry!"
Yes, that sucks, but it's on purpose so I don't scare you off with my Super Sense of Humor*.
* Actual Superman power.