This just in: "Watchmen" creators Alan Moore and Dave Gibbons have just signed Rob Liefeld to write and illustrate the sequel to their all-time great graphic novel! I was able to obtain a sneak preview of the upcoming cover: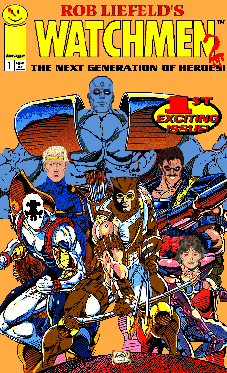 I feel the extra costuming elements really add something to the characters; I know I look forward to seeing what's in all those pouches, at least. And I got so tired of those Gibbons backgrounds, so full of detail and meaning. Give me good old-fashioned color gradients with lots of random lines hatching across it any day!
I also feel the change in writing duties bodes well, because who wants to spend all that time talking about history and relationships and blah blah blah? I say every page should be a splash page featuring The Watchmen jumping out of a helicopter in order to fight an opposing group of other super-powered characters, like maybe the zombie corpse of Moloch shooting laser beams from his undead eyes!!1!
This definitely is going to rock, I can't wait to read it.
(I wish I could credit the original creator of the image but I can't figure out who did it -- I found it through one of those random Google searches and it didn't have a source.)