The winner of Caption Contest 10 is ... The Grizz!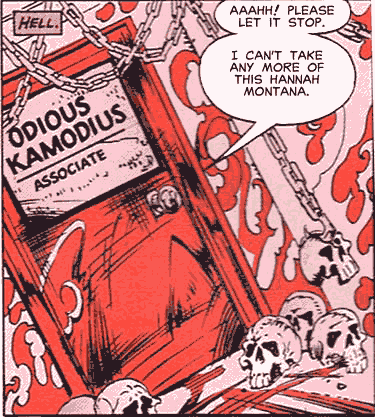 Many thanks to all entrants, this was a pretty good bunch. Here are some of the other ones that made me laugh:
Top Balloon- Well, at first I thought Hell was going to be awful.
Bottom Balloon- However, I didn't count on Rasputin to be such a good baker. Cyanide cookies are a lot more tasty than they sound.

top: aaw man!
BOTTOM: Is it always like this in here after burrito night?

top bubble-Odious Kamodius?
bottom bubble- Rhyming in hell? Is this, Dr. Suess's "you only go to hell once?"

Top Balloon: "Holy Slanted Floors!"
Bottom Balloon: "Who knew Hell was constructed from old Batman TV series sets?!"
By the way, BrokenSlot never got back to me about his prize for Caption Contest 9. If anyone knows him or her, please pass the word to get in touch with me. Thanks!