In This edition of Anime Talk I am going to be doing not one but TWO separate top 5 lists for you discerning anime fans out there to debate! Why two lists you may ask? The answer is simply, I'm lazy and don't want to write two separate posts!! Yeah I know, I get like that sometimes, so sue me.
Anyway lets get rolling with our first list.
Top Five Summer 2016 Anime: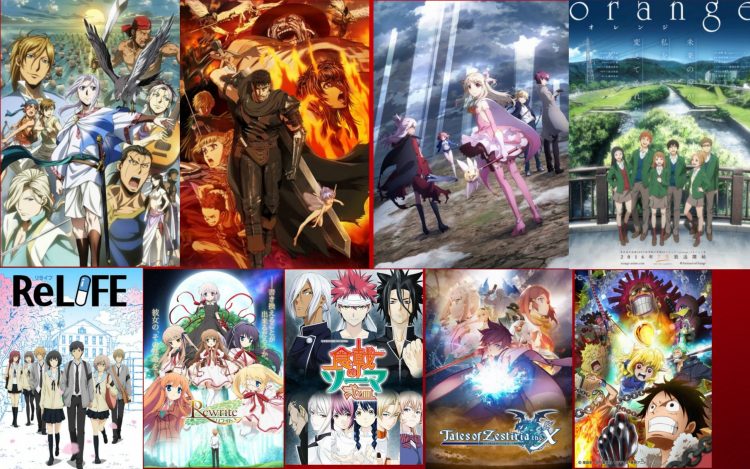 The Summer 2016 is roughly 3/4 of the way completed now and I feel that is good enough for us to be able to judge a top 5 list. That being said this list is 100% my opinion and may differ from yours and that's ok you are welcome to offer your opinions in the comments below of what makes your top 5 list. Note this list will not be including recurring series that began in another anime season, but only those whose first episode began in the summer 2016 season. Please note that this is NOT a review post so don't expect me to go into detail on describing the shows. Now let's begin.
#5 - Hybrid x Heart Magias Academy Ataraxia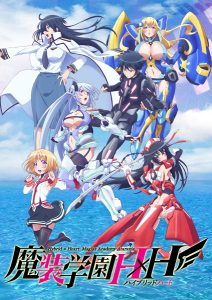 Hida Kizuna possesses the HHG (Heart Hybrid Gear) ability, but it is not strong enough to make him particularly important. His older sister calls him to transfer to a strategic defense school, where many of the students (many of which are large-breasted girls) use their HHG abilities to fight invaders from another world while wearing extremely skimpy pilot outfits. Kizuna's fighting ability doesn't measure up, but his sister has another plan—apparently having erotic experiences with Kizuna will allow the girls to replenish their energy or power-up. It looks like his new school life is going to be full of embarrassment

SYNOPSIS FROM: MyAnimeList.net
What we have here is a Combat/Action Harem Anime, and I will say this up front it is ECCHI as %@#$!!!! It is Sooooo bad in the echhi fan service that i'd almost be willing to call this a Hentai Anime, Almost! It has many of your classic Harem Tropes, The Aloof Girl, The Tsundere, Your Loli character, etc and though Harem anime are a guilty pleasure of mine this one only makes this list because underneath the blatant erotica of this anime there is a fairly good story and also interesting and engaging characters! Plus the action scenes are pretty good also!
#4 - Relife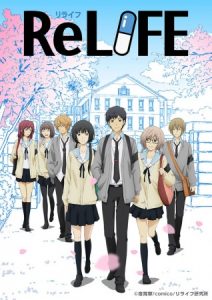 Arata Kaizaki is an unemployed, single 27-year-old who has just been cut off from his parents' financial support. Unable to find a job due to him leaving his previous employer within three months, he is stuck. One night after drinking with a high school friend, Arata meets Ryou Yoake, a man who offers Arata pills to turn him back into a 17-year old so he can redo his life. After agreeing to the experiment, Arata joins a high school class, and meets Chizuru Hishiro, a socially-awkward silent beauty who yearns to have friends. Through connecting with her and other classmates, Arata must find what he lacks to live a happy life in the real world within a one-year time limit.

SYNOPSIS FROM: MyAnimeList.net
I am not sure what to classify this anime as, I know it is Slice of Life RomCom ( Romantic Comedy ) but the de-aging pills and the experiment aspect of the show put it a little beyond that simply classification. Well whatever else it is, I can say without a shadow of a doubt that this is a damn good show! If you are a CrunchyRoll premium Subscriber like myself then you were lucky enough to get the entire season of this anime all on the same day a`la Netflix style, which was very nice indeed. I ended up binge watching this series while I was in the hospital and I just couldn't stop watching it. I am a sucker for slice of life and RomComs so this show had me hooked from the description alone and it didn't disappoint.
#3 - Taboo Tattoo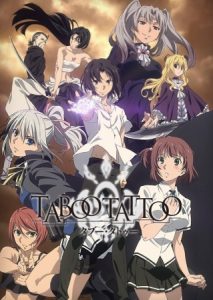 Seigi, a martial arts trained middle schooler, often feels driven to protect the weaker people around him. One day, he defends a homeless man against some punks, and the man gives him a strange tattoo on his palm in return. The tattoo is a secret weapon produced in the arms race between America and the Serinistan Kingdom.

Seigi finds himself in over his head when a powerful girl, using the same secret weapon, violently pursues him in order to retrieve it. His skill at martial arts may not be enough to keep him alive, but will he be able to learn how to trigger the power of his tattoo in time?

SYNOPSIS FROM: MyAnimeList.net
This is a real good Shounen Anime, there are some aspects of a RomCom in play but not enough to offset the fact that this show is more about the action. That being said so far there seems to be a decent if generic story in place and the characters are all interesting.
#2 - The Morose Mononokean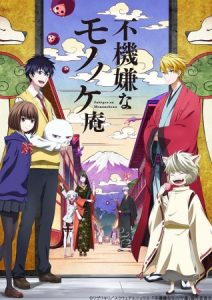 Ashiya has spent the first seven days of high school stuck in the infirmary because of a youkai attaching itself to him. He ends up asking the owner of a small tea room called the "Mononokean" for help. This is a tale involving the very morose owner of Mononokean guiding the youkai that happened to wander into this world go to the next world.
SYNOPSIS FROM: MyAnimeList.net
This anime in my opinion can be best described as a supernatural comedy! The show is mostly episodic as each episode has little connection to each other in terms of story but there does seem to be a bit of an overall plot going on. For the most part I have to say that this show is one to sit back turn the brain off and just enjoy type of programs.
#1 - Orange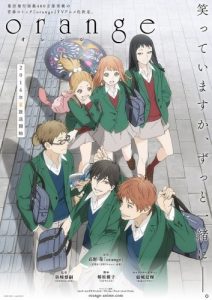 One day, Naho Takamiya receives a letter written to herself from ten years in the future. As Naho reads on, the letter recites the exact events of the day, including the transfer of a new student into her class named Kakeru Naruse.

The Naho from ten years later repeatedly states that she has many regrets, and she wants to fix these by making sure the Naho from the past can make the right decisions—especially regarding Kakeru. What's more shocking is that she discovers that ten years later, Kakeru will no longer be with them. Future Naho asks her to watch over him closely.

SYNOPSIS FROM: MyAnimeList.net
Let me just start of by saying that I am in LOVE with this anime! This is a Supernatural Romance Slice Of Life Anime and I just can get enough of it. I will admit that I don't particular care for the art style being employed here however the story has me by the heart strings and I think I may actually be depressed when this series ends. I eagerly await each new episode and watch it the instant It becomes available to me in my ChruncyRoll Queue ( assuming I am able to of course ) If there were only one anime I could suggest you all watch this one would be it!
Well that is my top 5 list please share your top 5 Summer 2016 anime in the comments below.
********************
and on too our second topic of this post!
TOP 5 MUSIC FROM ANIME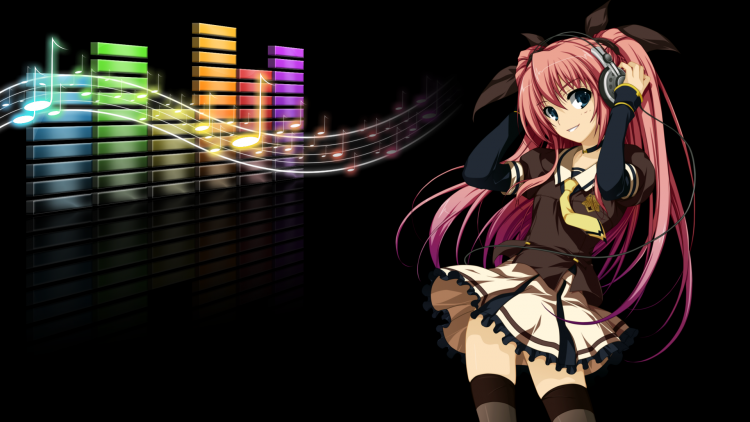 This top five is not limited to intro and outros from anime, it is any and all music from any anime, and considering Vocaloids are designed as Anime characters I will even open it up to those, though I personally won't have any vocaloids on my list feel free to have them on yours! Now if you know me I am sure you can already guess what or more precisely who is going to dominate my list musically but these are my opinion and you can express yours in the comments below!
#5 -  "Fukuzatsu na Ryouomoi"
by DoCo
From the Anime Ranma 1/2 and sung by the female voice actors from the show collectively known as DoCo
#4 - "Say Yes"
Sung by: Hashimoto Maiko (Vision)
Lyrics: Aran Tomoko
From the original  Bubblegum Crisis Anime OVA's  we have "Say Yes"
#3 - "HARUKAZE"
By SCANDAL
By my favorite band of all time we have the 15th opening credit song for the Anime Bleach ( Full Song Here )
#2 - "Shunkan Sentimental"
By SCANDAL 
Here is the 4th ending Credit to the Anime Fullmetal Alchemist: Brotherhood "Shunkan Sentimental"  ( Full Song Here )
#1 - "Shoujo S"
By SCANDAL
Yet another SCANDAL song this one again from the Anime Bleach. Shoujo S was used for the 10th opening Credit of the show ( Full Song Here )
And there is my list of the top 5 Music from Anime, please share your top 5 list in the comments below! and with that I am outta here!!!! Hope you enjoyed my 2 for 1 double take!!!!