We had a ton of very funny entries for our last Caption Challenge, thank you! And I just realized that I neglected to credit the always awesome Glenn3's "Say What?" PhotoBucket site for the original image: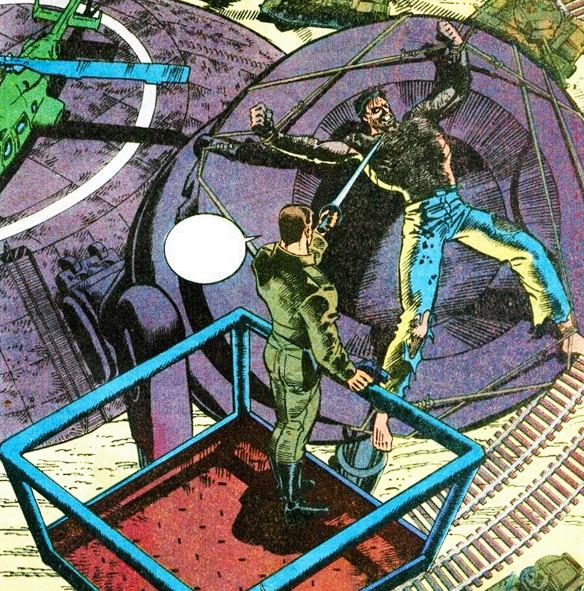 Some entries tickled my funny bone a little more than others, and I gladly present them to you forthwith:
Moognation: Is it just me, or does this smell like cheese?
ams: My scientists have just informed me that we have found Uranus…
Jake: En garde!
LoneWolf6155: When I said I was going to fire you, I meant out of a cannon into the sun.
The Shookman: "What? Of course this is how laser hair removal is done!"
Kaito94: "The sign says 'No shirt, no shoes, no service' for a reason, you know!"
The Atomic Punk: I could just stab you, but that's why I built this cannon.
DionZeromus: "So, this kinky enough for you?"
Joel: "Sorry, but giant laser cannon beats rock, you lose."
"Hey, I may not be Catholic, but I think I know how to canonize someone."
Skybandit: You're sure you don't want to upgrade your flight?
Herr D: You are perhaps wondering why a telescope? I LIKE BIG BUTTS & I CANNOT LIE!
Jimmy Hettenbaugh: Boop!
Daniel: Poked with the sword or cannon up the butt…either way, you're screwed.
Bael: Just for the record, this is the dumbest way to remove a loose tooth I have ever heard of.
Dan Gonzalez: If the sword shave or the blast furnace don't work I have an epilady charging.
ProwlerKnight: In case you are wondering, I haven't washed this sword in months.
Sutter_Kaine: I see you get my…point. Ah aha ahaha. See, I have a sword pointed at you. It's a visual pun.
I'm literally chuckling out loud right now re-reading these. From the always-classic Uranus joke to the simple but effective one-word "BOOP!", picking just one as my overall favorite isn't easy. But, religion has been on my mind lately, so I'm going to go with Joel for my own personal number one:
Let me know what you thought the best ones were, and thanks again for participating.