I think Caption Challenge 126 is my favorite one ever. You were tasked with coming up with replacement text for this blank comics panel: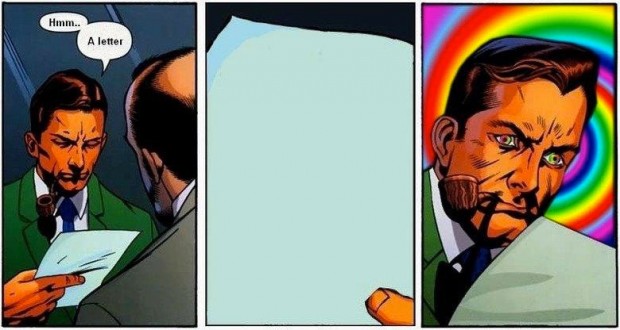 And you all really outdid yourselves. If you haven't read through the whole comment thread, I encourage you to do so because I know I will miss some great entries as I pull out my personal favorites.
Speaking of which, here they are!
Jake: All hail the Hypno-Toad.
Herr D: Harry: I bet your new TK power isn't strong enough to pull the pigment out of the ink on this page! –FR
Hammerknight: Don't look now, but you are being followed by a giant lolly-pop.
Frevoli: 50 Shades of Gray – E L James

Chapter 1…

Frevoli: My little ponies have captured the Tardis – send help
Frankie: Letter: R
DiCicatriz: I replaced your contact lens solution with LSD. Good luck.
Keric: Dear Sir, Congratulations our tests show that you do an active X-gene!
We at the Xavier Institute would like to help you train your GIFT of…
Creating Rainbows… to its fullest. Please send your reply to Hank McCoy
or Jean Summers 56 Institute Lane Bayville, Ny, 11201

Signed, Hank McCoy

Myro: "From the Desk of Professor Hubert J. Farnsworth,

Good news, everyone! I have invented a device that allows you to imagine my voice while you read this letter."
But one entry stood head and shoulders above the rest, right from the start. And that entry belongs to Hammerknight!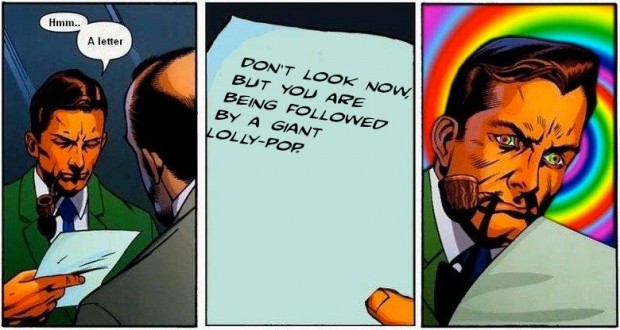 Congratulations, HK!
That's just my personal favorite, though, let me know which ones tickled your funny bone the most in comments.