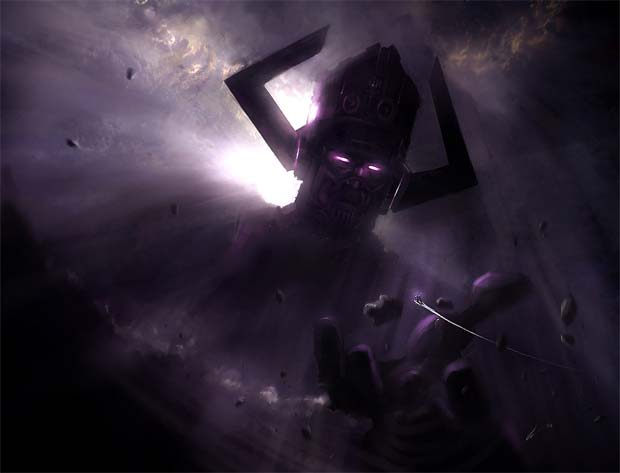 Your challenge for this week is to create the coolest character in the best illustration possible using any version of the HeroMachine that has something to do with the broad category of "Cosmic". You could just use a name of a cosmological phenomenon like "Black Hole" or "Nebula", or you could design a "star elf" from a fantasy role playing game, or simply a super-hero with some sort of cosmic-related powers. Classic examples would include Marvel's "Galactus" (duh!) or "Nova," or perhaps DC's "Eclipso" or "Sun-Eater."
However, "Cosmic" should not be confused with "Sci-Fi" or "Based in Space". For example, DC's "New Gods" series featuring the likes of Darkseid and High Father is set in the vast reaches of time and space, but the characters themselves are not necessarily "cosmic". New God "Orion" would qualify, but Darkseid would not.
I'm also excited and honored to have as our Guest Judge this week none other than "Friend of HeroMachine" Mr. John Hartwell, who in addition to being an instructor at the prestigious Portfolio Center in Atlanta, Georgia, is also the guy who introduced me to the Champions RPG. John's got impeccable design sense and a keen eye for good super hero costuming, so be sure to bring your "A" game this week.
The person with the winning entry as selected by John will win their choice of either a portrait or item to go in HeroMachine 3, or a custom black and white "Sketch of the Day" style drawing (by yours truly). The rules otherwise are the same as always:
Be sure to check out this thread that explains how to post a link to your image!
All entries must be in JPG or PNG form (BMPs are too big), posted to a publicly accessible website (like ImageShack, PhotoBucket, the UGO Forums, whatever);
Entries must be made as a comment or comments to this post, containing a link directly to the image and the character name;
The image cannot have been used in any previous HeroMachine character design contest;
Please name your files as [your name]-[character name].[file extension]. So DiCicatriz, for instance, would save his "Bayou Belle" character image as DiCicatriz-BayouBelle.png.
Please make the link go directly to the image (like this) and not to a hosting jump page (like this). If you see "preview" or "rotate" somewhere in the link you're probably doing it wrong.
All entries must be in by next Monday, when I'll choose a winner.
Entries are limited to three (3) per person, so pull out your red editing pen and make 'em your best!