When last we saw Angel, he was flitting about in one of the worst costumes to sport suspenders since Mork from Ork graced our national airwaves. Sadly for Warren Worthington III, his lifetime sentence of doom was not suspended, as he later was seen in this outfit: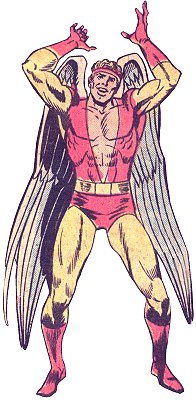 Nothing says "Powerful Hero" like a low-cut shirt that reveals your navel while hiding your nipples.
At least his color sense is a bit less offensive, which in a different world would help absolve him for that ludicrous Eighties-vintage headband. Since this is not a different world, however, I have no choice but to mock it. Mock mock mock.
Which, oddly enough, sounds a lot like what appears to be coming from his mouth in this pose. It's bad enough they make him go out in public dressed like this, but then to draw him standing with that "I got the bad weed at Woodstock" expression and cockeyed stance, still dressed in yellow, that's just begging for more chicken jokes. To wit:
He's plucky, I'll give him that.
This costume is not exactly a feather in his cap.
He really looks like a pecker.
I'd scratch his eyes out if I saw him in public dressed that way.
The Fashion Police will not be pinioning a medal on him any time soon.
I bet his tailor was just winging it on this one.
I better stop now before I get arrested for Egregious Punning in a Public Forum. It's just good to know that no matter how lame my jokes are, they're still not as lame as Warren Worthington III's costumes.
(Image © Marvel Comics.)