This may be the most random yet of the comics panels with their dialog whited out that Glenn3 has ever posted. And that's saying something, because goodness knows, there have been some very random panels there indeed.
Regardless, your challenge for this week is to come up with the best, funniest replacement dialog for this comics panel: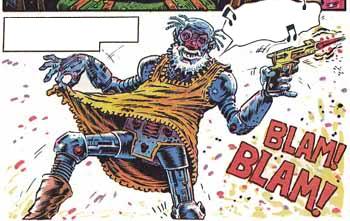 I have no idea what was going on here originally, but I bet if I did I'd need therapy. That is seriously weird. So, yeah, good luck with that! The rules are simple:
Leave your entry or entries (no limit) in the comments to this post (it's fine to put all yours in one comment, they don't have to be separate);
Keep it clean, appropriate for a late-night broadcast television program;
Next Monday I'll pick what I think are the funniest entries as Finalists, and everyone will have a chance to vote on who they think should win.
Good luck everyone!