I only have about a third of the slots filled with any sort of items at all, and the functionality is a bit hit-or-miss with lots of bugs and undesired behaviors, but ... already this thing is pretty cool. I love the part in developing one of these applications where I've got enough features implemented and enough items ready that I can actually build something. So here he is, the very first character image generated by the early HeroMachine 3 software: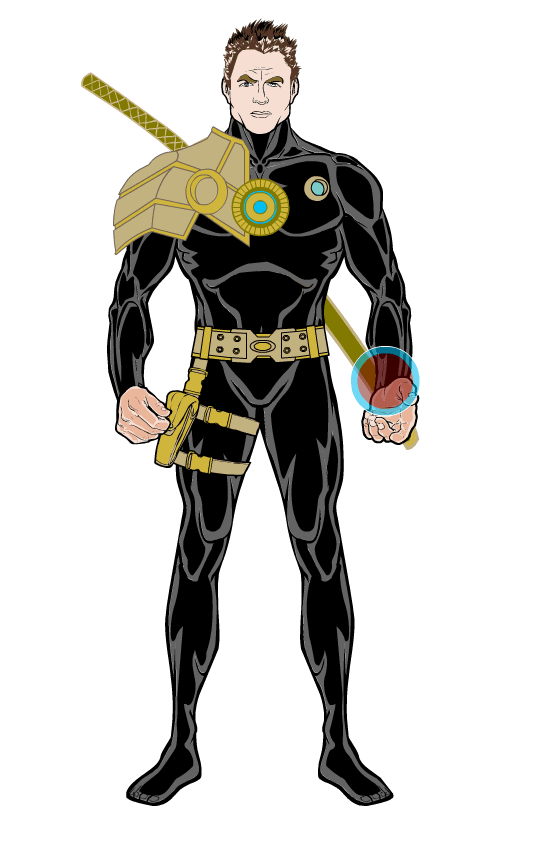 The astute observer will notice that most of these items are transfers from the Modern Warrior mini, which is why I was able to get them up so quickly. However, a few changes are worth pointing out.
First, the Shoulders slot has been broken into ShoulderRight and ShoulderLeft, a request made by several folks (notably Kaldath). So there you have it, a figure with only one half of a shoulder pad.
The hands are also new. Like before, HandRight and HandLeft are separate so you can have figures that look a bit different. In addition to the default ones in the Warrior and Zombie minis, I've added three or four new ones, like the two you see here. I wanted something that was more relaxed, so you could show an empty-handed figure who still looked "ready for action". The left hand one with the glowing sphere is also going to be good for spell-casters, I think.
Finally, the body is new as well. I ended up using one similar to the figures I posted earlier, but much tighter and better drawn. I'll post the "BodyStandard" items in a bit so you can see what they're like.