While we wait with quivering anticipation for Jeff Rients' Judgement on Caption Contest 39, here's our next entry to spur your creative juices (assuming juices can be spurred):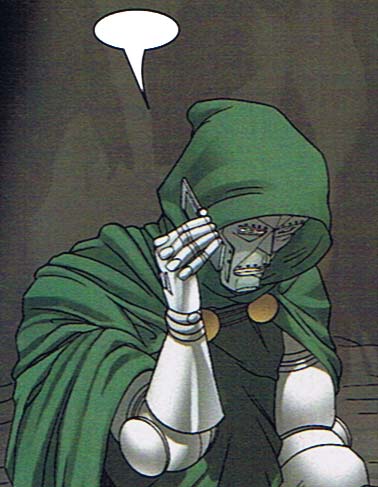 I'll make the balloon big enough to accommodate the winner, so don't worry about that -- it's kind of tiny. Something about this image just tickled me, either the somehow smaller-than-expected Doom, or the furtive look, or even just the fact that Doctor Doom is talking on a cell phone. I mean, who's he calling? And when does this take place, during a massive slug-fest with the FF? "Hey Reed, hang on a sec, I got a call. Yeah, go ahead girl, what up?"
Anyway, come up with the best dialog for the balloon and you'll win your very own custom black and white illustration from yours truly! Just keep it clean, keep it to no more than three entries, and keep the entries to the comments of this post.
That's it! So get busy and wow us, baby! Or you might be getting a call from Latveria you do NOT want to hear ...