The winner of Caption Contest 28 is Loki!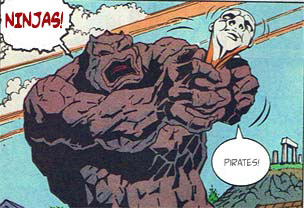 I only saw two other Honorable Mention entries:
DJ:
1.(BG)ME WANT CANDY NOW!
2.(Head)I AM NOT A PEZ DISPENSER!
I like this one because I can see it happening in an actual comic book. Plus, comparing him to a Pez Dispenser really makes me want to see what comes out when you squeeze him.
Frankie:
Big guy: "Stay back! Don't come any closer. I'm not afraid to use this!"
Head guy: "Um…Bang!? Bang!?? I don't know."
And this one I like because it makes me think about how ridiculous all of these shape-changing stretch-guys are, and wonder why they don't get into situations like Frankie describes more often.
I was late posting the winner due to my NYC trip, so Caption Contest 29: Shiver me nips! is going on now, with your chance to win your very own custom black and white illustration just like Loki!