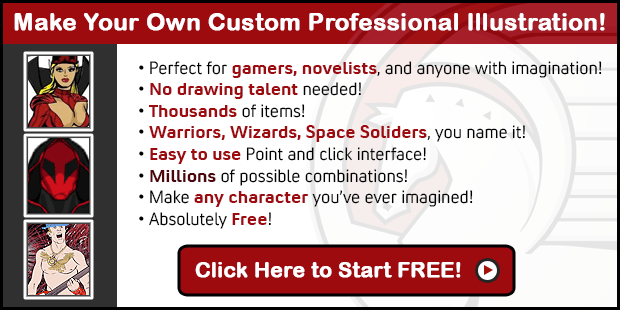 Have you ever wished you could see the character you've imagined drawn out in perfect detail by a professional artist, but you just don't have the skill to do it yourself?
Thanks to HeroMachine, now if you can imagine it, you can create it, absolutely free. With thousands of hand-drawn custom-colorable line art, you can outfit any character from any genre. Whether you're an RPGer who wants to bring a character sketch to the game, a novelist who wants to capture that perfect face to refer to as you write, or a gamer who wants a more comics-style rendering of your warrior, ninja, wizard, or archer, HeroMachine can bring that illustration to life.
Just choose the type of item you want, click on it to add it to the canvas, and choose your colors. In minutes you can build your very own customized, beautiful character sketch.
Click here to see a gallery of some of the best creations by other HeroMachiners.
Otherwise, get started with HeroMachine 2 (the easiest to use) or HeroMachine 3 (fully functional but still in development, with many more options).
All HeroMachine Versions