December 10, 2018 at 11:49 am
#153587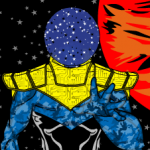 Cody Rinker
Participant
Name: Virus
Abilities: able to hack any computer, drone or device. can shoot lasers from his eyes. last he has super intelligence.
Background: Virus is the biggest criminal master mind in the cities of Chicago and will do anything to keep it that way. he has a huge business and is currently the richest villain in the world. when Sensi Veir was catching on to one of Virus's schemes, Virus hired Red Shot to kill him.
Attachments:
You must be
logged in
to view attached files.