JR19759
Keymaster
Emerson Lake Asylum, Palmer County
Situated on an island in the middle of Emerson Lake amongst the mountains and forests of Palmer County, Emerson Lake Asylum was a state of the art correctional institute equipped to house some of the world's most dangerous inmates from prison systems across the country, all of whom are criminally insane. But then something went wrong. The inmates got out and now the lunatics are running the Asylum. Fortunately, the Asylum's state of the art security system ensured the facility went into lockdown, containing the inmates, but that has led to a new problem. The few staff that survived the initial breakout now have very little chance of escape and the police are locked out by the very same system that's keeping the inmates in.
Please find below information on inmates of special interest. Engage with caution.
Inmate Number: A-117629
Surname: Brady
Forename: Bryant
Initial Date Of Commitment: 07/05/14
Patient Age: 43
Gender: Male
Patient Information: Brady was commited to Emerson Lake Asylum by court order after his council pled insanity against a charge of 18 homocides between the years 1992 and 2013. His crimes consisted of the rape and decapitation of men and women between the ages of 15- 25, with his victims usually being blonde haired (or dyed blonde) and of slim figure. He would collect the heads of his victims and preserve them as trophies, throwing out the bodies in secluded public areas such as woodlands or back alleyways. His method of killing would gain him the nickname "The Headhunter" from the press. There is documented evidence of abuse during his childhood by both his father (a small town preacher) and by some elder students at his high school, both of which Brady corroberates. His father went missing in 1987 and, whilst Brady admits to the crime now, there was no evidence at the time of foul play on Brady's part and a body was never discovered. This, combined with local knowledge that the man was a drunkard and a bully with many enemies, led to the case going cold.
Patient Interview Exerpt:
They say God loves us all, each and every one of us. But that's not true. God does not love me. He never did. My Father was a man of God. He used the Lords words to violate me, to break me, to make me his own. He would go out and preach words of love and tolerance, but could only show his son how to fear and hate. But he taught me a very important lesson, that God does not care. And if God does not care then what do you have to fear in hell? So I killed him. I killed my father and I killed God. And in that moment I became God. I brought judgement upon all those filthy queers and whores who spent their days looking down on me, laughing at me, making me feel worthless. If your God will not judge the sinful then the new God will.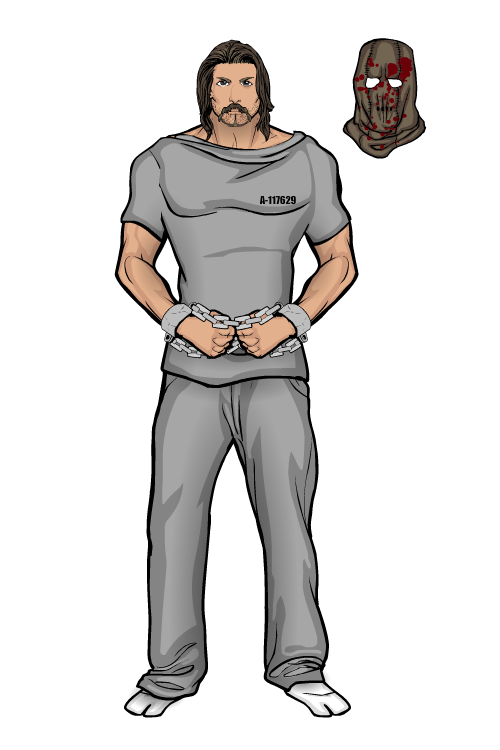 Attachments:
You must be
logged in
to view attached files.