September 16, 2016 at 12:13 am
#138554
DiCicatriz
Participant
And nooooow Campeóns parents. What we refer to in Spanish as Hideki's 'suegros'.
CUAHTEMOC & TONANTZIN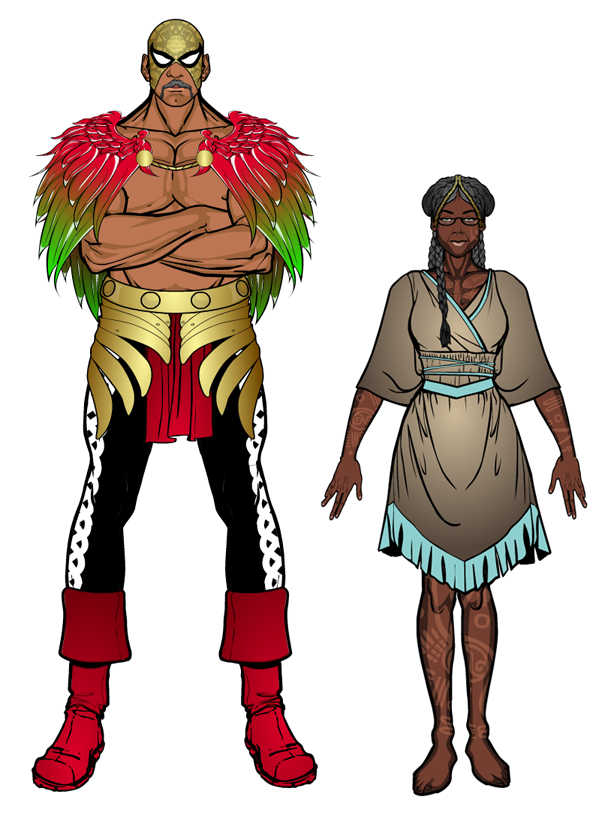 TONANTZIN – Tonantzin Gonzalez: Mother to the Gonzalez siblings and wife of the superhero Cuahtemoc, she is a mejica mystic whose powers came naturally to her, through a deep empathic connection with the Earth. She is a wise and gentle soul and loves all of her children fiercely. Tonantzin naturally is more affectionate with Mauricio and is incredibly protective of him.
CUAHTEMOC – Rigoberto Gonzalez: The pinnacle of classic super heroic masculinity as Cuahtemoc, he championed the indomitable spirit of the luchador and dealt with criminals swiftly and decisively. His strength is unparalleled, even by the late Solarion, and his skill as a fighter is legendary. But as a father, Rigo has not always been a paragon of virtue. He had a hard time reconciling his machista reputation with Campeón's coming out and dealt even less successfully with Mauricio's being born a powerless human. His relationship with his sons remains somewhat strained, but Tonantzin always makes sure Rigo shows them love in his own way.
This reply was modified 6 years, 2 months ago by

DiCicatriz

.
Attachments:
You must be
logged in
to view attached files.